Can Tevin Coleman Finish as a Top 12 Running Back?
Can Tevin Coleman Finish as a Top 12 Running Back?

Tweet
With San Francisco debuting their brand new alternate throwback-inspired jerseys, they wanted to ball out in style. While their big ballers on defense stayed hot against CMC and the Carolina Panthers offense, we saw one of the 49ers big offensive acquisitions from the off-season finally pay off. Tevin Coleman absolutely exploded for 105 rushing yards and 3 touchdowns, adding another 13 yards and 1 touchdown through the air. Now, with TC being apart of a running back committee that includes Matt Breida, it ponders the question whether or not if this is what we can expect from Coleman, or if this was a one off performance. Let's take a deeper look.
Less Touches Means More Production?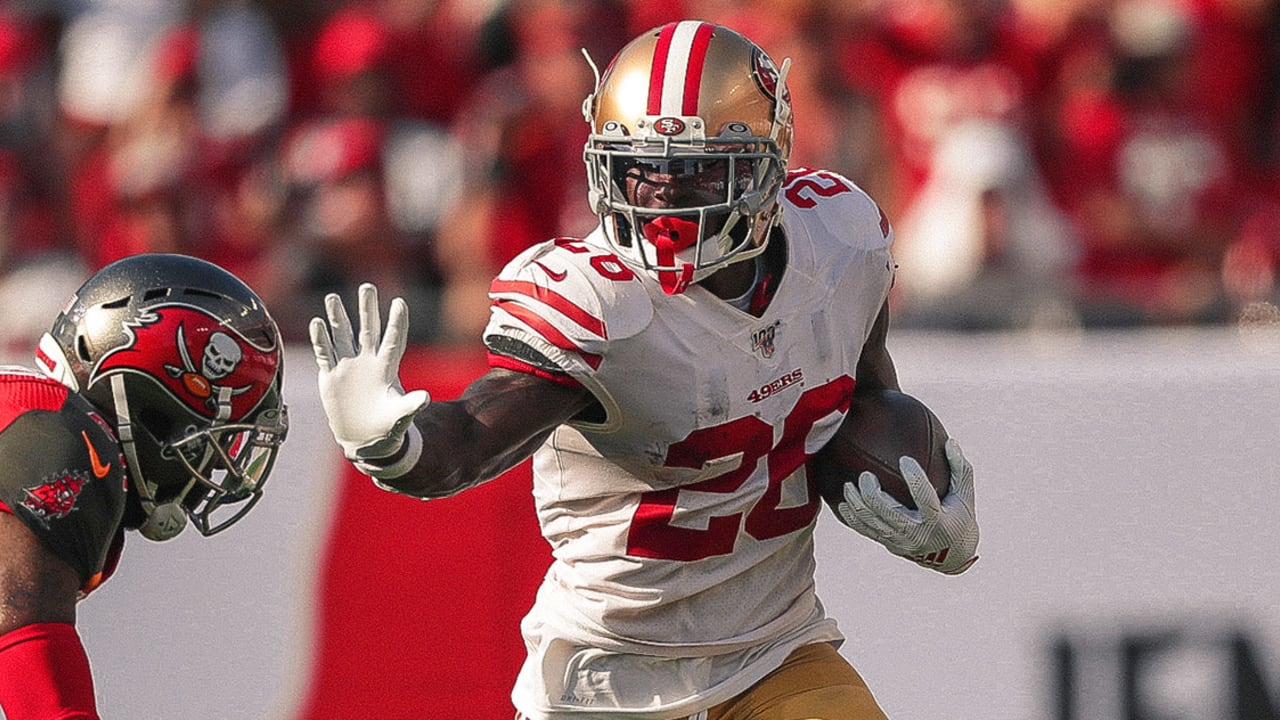 An important thing to note is Coleman got all this production on only 13 touches (11 rushes, 2 catches.) Coleman is used to being giving only a limited number of touches, as he spent 3 of his first 4 years in another 2 RB committee with Devonta Freeman. When he was working with Freeman, the Falcons run game was electric. Let's cite their 2017 season. The Falcons run game totaled 1847 rushing yards and 12 touchdowns. Coleman, who was used mostly as a change of pace back, racked up over 628 yards and 5 touchdowns. The year before, which was the Falcons Super Bowl run, Coleman had 520 yards and 8 touchdowns, where the Falcons run game totaled up to 1928 yards and 20 touchdowns.
Now, those are some excellent numbers, but the main concern comes from when Coleman is the number one back. In 2018, this was the case as Freeman missed almost the entire season. Coleman had 800 yards and 4 touchdowns, adding another 5 touchdowns through the air. Coleman clearly benefits scoring wise when he has another back to work with. While more reps will always mean more yards, if he isn't converting touches to scores, less touches could be the key to success.
What Does This Mean For Fantasy?
As of right now, this can only mean good things. Coleman is in a system that combines all of the good things mentioned previously. Coleman is paired with Kyle Shanahan, who was the offensive coordinator for the Falcons in 2016. Which, as we know, was an amazing rushing year. He is an a 2 RB committee but also appears to be the "lead back." Which could mean enough touches to produce substantial yards, while also preserving that big burst Coleman uses to get scores.
This big performance is likely not going to be repeated again this year. That being said, that doesn't mean we won't see lots of fantasy production out of Coleman. Now that he is back from injury, Coleman can have more multi touchdown games and add 80+ yards in this system. Coleman is a must own in all formats, and is likely going to get better as the year goes on.
If you enjoyed this article and want to get updates on any future articles of mine, please follow my Twitter here!
Can Tevin Coleman Finish as a Top 12 Running Back?

Tweet