A Recap of the 49ers Divisional Round Win Over the Vikings
"We had a goal going into this game. We thought the team that got over 30 runs would win this game…"
Head Coach Kyle Shanahan's post-game interview shed some light on his thought process going into the Divisional Round against the Minnesota Vikings.  The 49ers handily eclipsed that goal, rushing 47 times for 186 yards and 2 touchdowns in their 27-10 victory on Saturday. The man with the hot hand was RB Tevin Coleman; he led our 3-headed monster with 105 yards on 22 attempts and accounted for both rushing touchdowns. Coleman was a great return on investment for any DFS players that took the $4800 shot on him (22.5 points).  The question for you now is, can you do it again? Prior to Saturday's strong performance, Coleman had less than 100 yards rushing in the last 5 weeks COMBINED. The only other time he passed the 100-yard mark was when he blew up against Carolina in week 5; he was just shy of that against the Browns in week 2 with 97 yards. Lots of coaches talk about the "hot hand approach" but Shanahan is a true example of that philosophy. That being said, you can do worse in that price range at this time of year.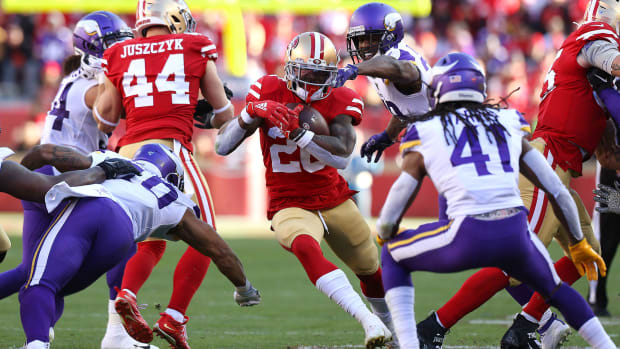 The effective ground game meant the offense had to ask very little of QB Jimmy Garoppolo. He ended with a meager 11/19 for 131 yards and 1 touchdown. An interception towards the end of the second quarter led to a Minnesota field goal and cut San Francisco's lead down to 4 just before the half. When Jimmy's not throwing, the WRs aren't catching. Deebo Samuel ended up as the yardage leader (42) and Kendrick Bourne came in a close second in yardage (40) but he also secured the lone 49er passing touchdown. KB was another DFS value from this game at $4900 (11.5 points). He's been a low-cost threat in the red zone with 7 RZ targets and all 5 of his touchdowns coming inside the 20. DFS options are getting pretty thin this late into the playoffs so you may find it worth it to look his way on Sunday.
A re-energized Defense was the lynchpin of Saturday's win. The round one bye allowed the 49ers a much-needed break (their bye was waaaay back in September, week 4) and enabled them to play their first game of the playoffs with DE Dee Ford, LB Kwon Alexander, and S Jaquiski Tartt all returning from injuries.  Talented RBs Dalvin Cook and Alexander Mattison were held to a combined 21 yards rushing on 10 attempts. With these major pieces back in place, we also saw the return of the dominant pass rush. Vikings QB Kirk Cousins was sacked 6 times for a loss of 46 yards and was held to a QBR of 34. He went 21/29 for 172 yards, 1 touchdown, and 1 interception (Uncle Sherm!). Turnovers generated by both the Defense and Special Teams and the strong run game enabled the 49ers to control the game clock for 38:27 and left the Vikings only 21:33 to work with. The Vikings converted on 3rd down two times the entire game and did not score a point in the second half. They were only able to get 7 first downs on the day, one of which was from a penalty.
In a video captured of Jimmy after the win in Santa Clara, he said, "One down, baby. We got another next week. Get your mind right Faithful. Let's go!"
For more Time Skew Content Visit us on Youtube, Follow us on twitter, and listen to the Time Skew Podcast on Apple Podcasts
A Recap of the 49ers Divisional Round Win Over the Vikings

Tweet