Minnesota Vikings Offseason: Emerging Stars
Minnesota Vikings Offseason: Emerging Stars

Tweet
There hasn't been much happening with the Minnesota Vikings offseason just yet. They lost OC Kevin Stefanski to the Cleveland Browns and promoted Head Coach Assistant Gary Kubiak to the OC job. Besides that, there hasn't been much change, but that doesn't mean big changes aren't on its way. There is much Speculation in Minnesota this offseason.
Trades
One of the biggest speculations deals with Wide Receiver Stefon Diggs. Ever since there was talk of him wanting a trade midway through the season last year, people are still thinking that might be what he wants. He believed he wasn't getting used properly and for the most part he was correct, he was angry and puts emotion in his game. I never believed he wanted to be traded, just used properly. He is to electric of a player to just be just a pawn on the Vikings Offense. Trade rumors are popping up again not entirely from Diggs, but the Minnesota Vikings Organization. They signed Diggs to a 5 year deal worth up to 81 million dollars just 2 years ago, but they might not be able to afford it now. Minnesota has little cap room thanks to Captain Kirk and could potentially look for a trade partner for Diggs and clear some CAP. Now, no Vikings fan wants to see Diggs go. Diggs and Thielen are a tandem band who can't get broken up, they are great assets to the offense. The Vikings have Thielen as the WR1 and usually have 2 TE's and Dalvin Cook who likes to be a receiver. They might look at it that they don't need to pay 2 WR1's. Only time will tell of those Rumors are true.
Another trade rumor going around the Land of a Thousand Lakes is Corner Back Xavier Rhodes. Once a top 3 shut down Corner Back, Rhodes has fallen far from glory. He was rated as a bottom 10 Corner Back in the League this year out of all qualifying CB's. He had one of the worst defensive ratings and somehow still made it to the Pro Bowl. I think Xavier was a tremendous Athlete and it is unfortunate that he is not able to play at the same level as just 2 years ago. He was a difference maker and that is why Minnesota signed him to a 5 year 70 million dollar contract after the 2017 season, where we saw him rated as the Number 1 Corner in the League. Injuries has set him apart now and it is time to move on. Maybe with a fresh start he can reprise his role but not in Minnesota. Minnesota needs the CAP space so they can keep the likes of Anthony Harris, Trae Waynes, and Mackensie Alexander. They all bring more to the table then Rhodes.
DRAFT
There are a few positions Minnesota needs to improve with the draft. They need a QB of the future, all of the Offensive Linemen they can get plus some, a CB, a WR, and possibly a utility player like Taysom Hill of the Saints. Lets go into more detail.
Minnesota has the 25th Pick in the 2020 draft and have a few options they can make. If a good QB falls that far, say Justin Herbert out of Oregon or Jake Fromm out of Georgie, I would hope they would grab one. They need a QB that has potential and doesn't need to start right away. Just let him learn behind Kirk Cousins for a year and then let Cousins walk in free agency as he is not going to be looking for less money then he is already making. Herbert's status has fallen this last season, not due to himself, but all the other QB's taking a step up. I think he would be a great QB 1. Fromm would also be a solid choice as he is an intelligent QB who yes, makes some bad decisions, but I think Kubiak would fix that. I mean he made Brock Osweiler look like a top 5 QB. They could even potentially get Fromm in the second round as his stock has fallen.
For Offensive Linemen, I think that they should also consider Josh Jones out of Houston. Standing at 6 ft 7 and 310 pounds, he would fit into the Vikings Linemen group. Minnesota have been using linemen that are more pure muscle then just bulky. They have to be athletic and make fast moves. Jones would be a mix of both and I think that would be a big plus for the Line. With Pat Elflein not working out, Jones would take over the guard position. Jones is predicted to be a late first rounder so that sits perfectly with Minnesota's draft pick.
Trevon Diggs (Yes the younger brother to star WR Stefon Diggs) is predicted to be a late first round CB. Minnesota likes to take defensive players in the first round and Diggs could be a good fit. He is an average size CB who shines in Zone coverage. He is doubted for his Tackling ability, but that is something Zimmer has fixed in just about every player that has been on his defense. Being on a team with his older brother could help him develop at the pro level and be an asset to the team.
There are many other players the Vikings might be looking at but those are a few solid options I hope they consider. Just draft a few good Offensive Linemen and then a QB who takes a year to learn and you will continue to have a great offense. A utility player like Taysom hill would be fantastic for the Vikings. They are set up that same way and could create some interesting trick plays under Kubiak.
Rising Stars
Mackensie Alexander did a solid job this season when healthy. He was probably the best CB on the team when out on the field. With Rhodes probably leaving and Mike Hughes not performing the best, Alexander can show what he is made of. Brian O'Neill has been a fantastic O Linemen. He is everything we are trying to find in one. He is big, strong, and smart. I can remember 2 times he had a flag called on him all season. Elflein had 3 a game. I see something special happening with the O Line in the near future. Danielle Hunter is not a rising star anymore but is still a young player with tons of more pure potential. He is a freak of an athlete and is very underrated which I love and hate. He is always trying to prove himself. Ifeadi Odenigbo showed what he can do in his few appearances on the field. He almost had 2 Touchdowns as a Defensive Linemen. That is something you just don't see everyday. I would love to see what would happen if he was a starter. Alexander Mattison Showed what he could do as a Running Back. In his Rookie year, he proved that he should have been a higher choice running back. He has pure power while running into defenders and paired with Dalvin Cook, is part of the best RB group in the League.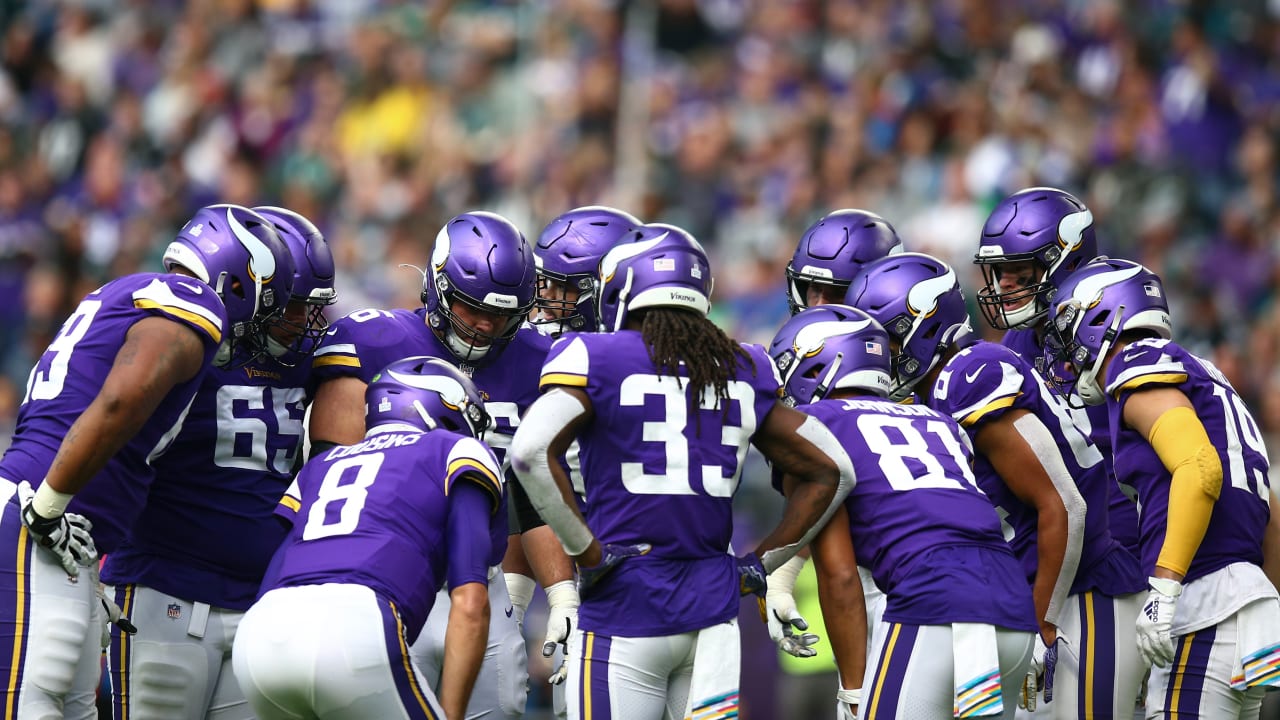 There are many questions heading into the offseason and I am both excited and nervous to see what happens. I think Minnesota knows they are in trouble with CAP space but are also in win now mode. I think they can pull something special off with the right planning and players. Let's see what happens! SKOL!
For more Time Skew content visit us on YouTube, Follow us on Twitter, and listen to the Time Skew Podcast on Apple Podcasts or wherever you listen!
Minnesota Vikings Offseason: Emerging Stars

Tweet
Read More:
Writer on the Minnesota Vikings and writer for timeskewed.com. Professional Music instructor.