49ers Draft Discussion: Does X Mark the Spot?
Thursday, April 23rd, 2020. The NFL draft will be kicking off in 2 months. Free agency is great but I've always felt that the draft is when the new NFL season starts ramping up. Whether its a highly-ranked prospect being everything you hoped, getting a stud in the 5th round, or finding gold in a UDFA, the draft can fill you with hope about your team's potential for the upcoming season.
San Francisco has a huge gap between their first round pick (31) and their next pick in the 5th round (139, received from Denver in the Emanuel Sanders trade). They traded away this year's 2nd for Dee Ford and their 3rd and 4th as part of the Sanders trade. There is a chance of a compensatory pick if Sanders were to sign a big contract elsewhere. I imagine he'll get an offer from the 49ers (likely at some type of discount) and take a look at what his market is with other teams across the league before making a decision. Ultimately, the players John Lynch and Company opt to keep away from free agency will be telling of their plans for the draft. With an estimated cap space of $12.9m for the upcoming season, I doubt they bring in any big-name free agents this off-season. Losing the Super Bowl hurt for fans and players alike, but keeping the heart of this team together will be the key to avoiding a Super Bowl hangover and kicking off what Kwon and Kittle dubbed "The Legendary Revenge Tour." I've placed my faith in the Wizard of Paraag to find a way to keep Armstead and Ward (at least) and to get new contracts for Kittle and Buckner using his signature mixture of cap magic and incentive voodoo.
This year's draft class is being hailed as one of the most exciting WR classes in a long time. Debates are raging over whether the likes of Jerry Jeudy or Ceedee Lamb will be the first WR off the board, and who will be the most successful in the NFL. Some feel that the 49ers should add to their current receiving corps again this year, whether that be at pick 31 or later in the draft. Wide Receivers currently on the roster that I consider safe for next year: Deebo Samuel, Kendrick Bourne, Dante Pettis, Richie James, Trent Taylor, and Jalen Hurd. Questions exist for: Chris Thompson (practice squad), Shawn Poindexter (IR), Emmanuel Sanders (free agent and possible cap casualty), Marquise Goodwin (unproductive season ended on IR due to what Shanahan called "chronic stuff;" could save about $3.7m if cut), and Jordan Matthews (signed for depth, only active one game for SF). I expect Lynch and Shanahan to add some depth in the later rounds or with some UDFAs. I also expect them to try to move their #31 pick to allow them more freedom in the middle rounds. However, if they do use an early-round pick on the WR position, it will need to be for someone that can push this offense into the elite category. What we need is our next T.O., someone that can fit the mold of a "true" X-receiver. Let's look at a few options to fill this role that could be available.
Laviska Shenault Jr., Colorado
Height 6'2″ Weight 220 lbs
Laviska should be the only option San Francisco considers at 31 unless someone like Jerry Jeudy makes an unprecedented slide to the bottom of the first. He has the size and skill to be a dominant outside X-receiver with some versatility to move around, even taking some snaps at running back and Wildcat quarterback at times. He has great blocking ability but will sometimes quit when blocking away from the ball (Kyle would probably have something to say about that). He's got good speed, strong hands, high Football IQ, and seems to bring the same "bully" mentality (to the field) as Deebo Samuel. Many projections have him going anywhere from the middle to the end of the first round, so it remains to be seen if he is a realistic option.
Other Possible Fits:
Tee Higgins, Clemson
Height: 6'4" Weight: 215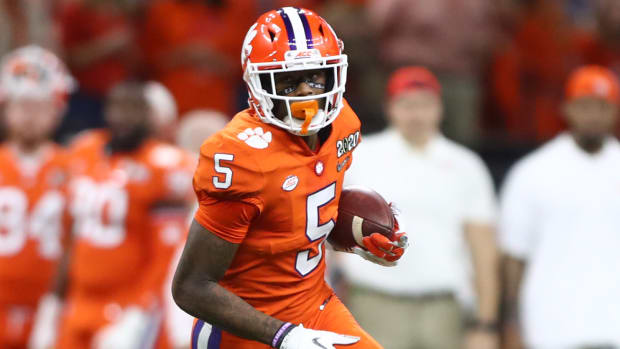 Higgins is often being projected to go in the middle or end of the first round and could be around at 31. If he does fall, San Francisco could be tempted to look his way. He has great physical abilities but some reports suggest blocking is a weak point and he doesn't have the aggressive mindset that Shanahan values. If Laviska isn't there at 31 and San Francisco is able to keep all their key starters, I think it is more likely they do everything they can to trade out of the first round to recoup some picks for day 2.
Denzel Mims, Baylor
Height: 6'3" Weight: 206
If John Lynch is able to trade back, he may want to look at this Baylor prospect. Mims is a physically gifted receiver with good hands and strong instincts. He's not as heavy as the others in this list but he makes up for it with strong blocking and his ability to run after the catch. Like most of the day 2 or 3 guys, he would need some development.
Bryan Edwards, South Carolina
Height: 6'3″ Weight: 220
Another option that I like who may be available on day 2 or 3 is Bryan Edwards. Edwards is another big-bodied X receiver that's a solid blocker with good contested catch ability. He's a physical receiver with modest agility that will do more damage with short or intermediate routes.
The X Factor
Looking at this list (and many of the other prospects) gets me excited for this draft class. The hype around this draft class means nearly every fan wants to see their team get in on the action. Whether San Francisco actually goes after an X-receiver in the draft will come down to a number of factors, foremost of which being what they already have in-house. The 49ers selected Jalen Hurd with pick #67 in the 2019 draft. At the time, he was listed at 6'4" and 229 lbs and converted to WR after playing RB for 2 years in Tennessee. He was largely referred to as a "Swiss army knife" and most of his receptions came from the slot in college:
Hurd has the size to fill the X role but it remains to be seen if he will be asked to transition out of his collegiate role. A back injury limited Hurd to only one preseason game against the Cowboys, during which he had 3 receptions and 2 touchdowns. Although he's unlikely to maintain his 66% TD rate, I'm excited to see what role he will play in this offense, X or slot. Hurd is projected to be ready for training camp this off-season and you can bet he'll be one I'm keeping an eye on.
For more Time Skew Content Visit us on Youtube, Follow us on twitter, and listen to the Time Skew Podcast on Apple Podcasts.
49ers Draft Discussion: Will John Lynch select a WR at #31?

Tweet
Read More: