XFL Power Rankings: Week 4
Week 3 has wrapped up and has reminded us that the XFL is still a new league, which means its teams are still figuring things out and getting better. So, those gaps in talent that we saw in week 1 not as large as we thought they were.
8. New York Guardians (1-2)
After starting off the season with a controlling win, New York has really come back down to earth. Once again there offense had difficulty finding it's stride. Matt McGloin was still their guy to start, but an early injury had him switching in-and-out with Marquise Williams until halftime when he was taken out for the rest of the day. Williams played most of the rest of the game, but was benched for the final few drives in favor of Luis Perez.
While the defense continues to make the dominance they showed in week 1 seem like an aberration, the main problem continues to be the offense for New York. Darius Victor and Tim Cook combined to give the Guardians a decent ground game, but they could not finish drives. They made it into the redzone three times last week and only came away with 6 points on a touchdown, the other two times ended with a turnover on downs.
This week they are taking on the Wildcats who just throttled the Defenders, a team of did the same to New York the week before. It's not going to be a pretty game, but hopefully the Guardians can get points 50% the time they're in field goal range.
7. Tampa Bay Vipers (0-3)
Tampa Bay continues to improve. They still don't have a win, but it is promising that they played the only undefeated team left to a one-possession game. This is a far cry from the offensive inability they showed in their first two games. However, they continued to give multiple drives to two quarterbacks. To their credit, however, they did give Taylor Cornelius every drive of the second half, but Marc Trestman needs to decide on one and trust them for the game because switching them out isn't working. The return of Aaron Murray from injury might also lead to more indecision.
It's also worrying that the runningbacks were not as effective as in previous weeks. Jacques Patrick and De'Veon Smith did not combine for a hundred yards for the first time and Patrick only averaged 1.8 yards per carry. However, Cornelius and Quinton Flowers made up for this as they both had rushing touchdowns, meaning the Vipers finally joined the rest of the XFL by getting an offensive TD.
They will be hosting the DC Defenders, who would be a daunting opponent. Except, they are coming off their first loss in their first away game to a team that was winless like Tampa Bay.
6. Seattle Dragons (1-2)
It is difficult to describe this team. They don't really have a lot about them that stands out. Their offense and defense are both decent and that is really the problem. They have solid RB trio in Kenneth Farrow, Ja'Quan Gardner, and Trey Williams who do a better job than some XFL RBs, but not enough to win games. That leaves it up to the passing game on offense, who have some talented receivers in Keenan Reynolds and Austin Proehl, but they haven't been consistent. This is partially due to the quarterbacking, but that still could be overcome with a strong defensive playmaker.
Unfortunately, the defense also lack someone who could shift the tide. Steven Johnson has been the top tackler in the XFL and he has become a sort of defensive leader for the Dragons. However, he still has yet to make the big plays they need to give momentum to his team during games. If Johnson or Proehl or one of the runningbacks can take that next step, they can be more competitive and exciting. If not, they may top out at average.
They take on the St. Louis BattleHawks this week and now would be as good a time as ever for Seattle to have a show-out game.
5. DC Defenders (2-1)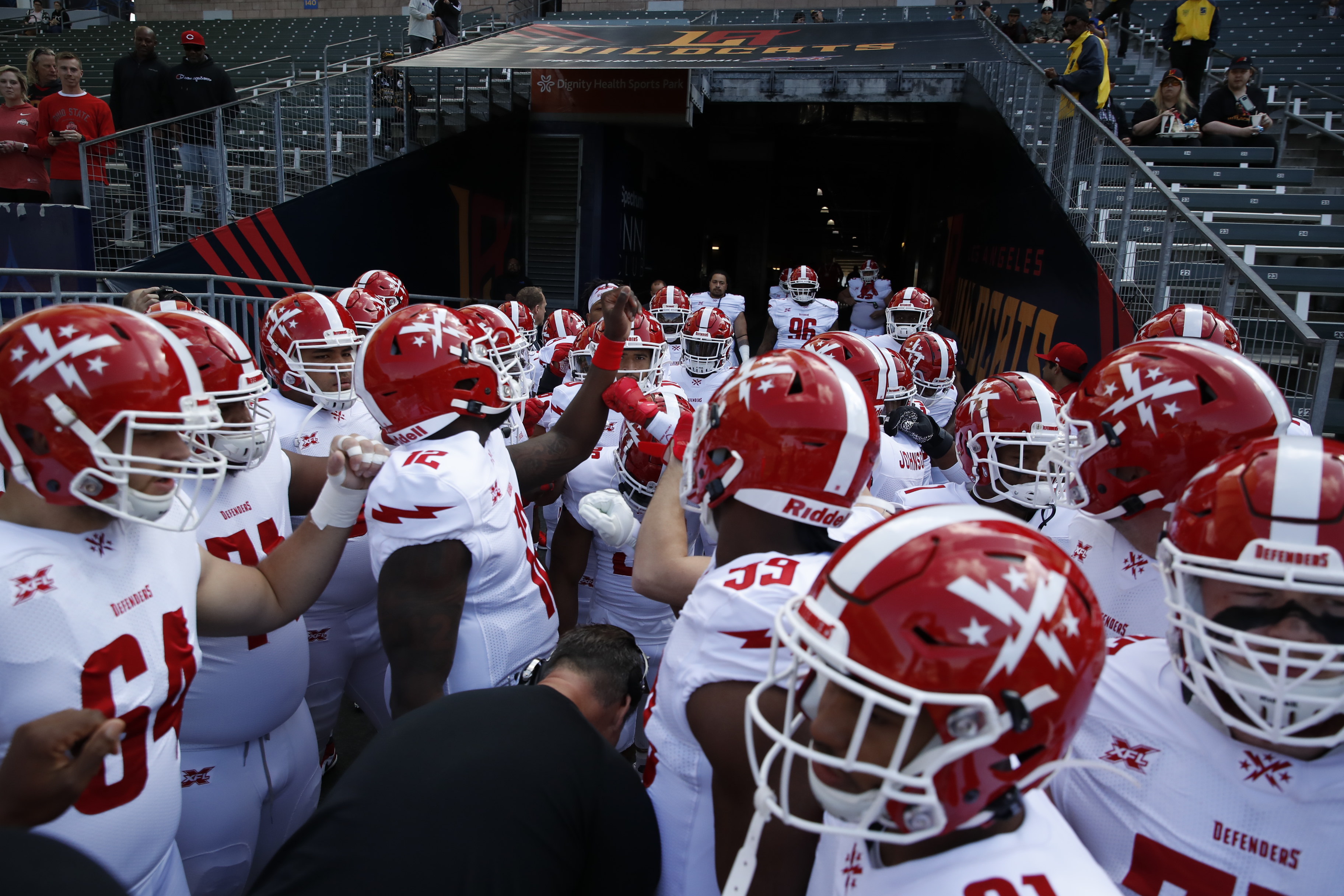 Oh, how the mighty have fallen. It is very difficult to put the Defenders of all teams this low in the power rankings. However, I could not put them above a team they had lost to by 30. Cardale Jones looked more like an AAF Matt Simms last week as he gave up 4 interceptions to the Los Angeles secondary in a trouncing that they expected to give not receive. The defense also gave up, not one, but two 90+ yard TD-scoring drives. Despite this, they did have some positive takeaways.
Nick Brosette had a great day running the ball as he averaged 9.4 yards per carry along with strong days from their other three RBs as well. So, at least one part of their game was still going strong.
They head to Tampa Bay this week and will get to face the 0-3 Vipers. They will either cruise to an easy victory in a game in the style they were expected to win against the Wildcats or they may show that road games and winless teams are their kryptonite.
4. Los Angeles Wildcats (1-2)
The LA Wildcats, the surprise of the week. They shocked the world and turned the XFL power rankings a hoot this week. The Wildcats were expected to keep it close against DC, but instead decided to dominate the game on both sides of the ball. Josh Johnson showed why the Wildcats selected him as a Tier 1 supplemental draft pick and let go of Luis Perez. Tre McBride also did a great job at making the Defenders regret trading him away by putting up 2 TDs on over 100 yards.
The defense also did their part and a little more by racking up 3 sacks and 4 interceptions. 2 of those interceptions and a sack can be accredited to cornerback Mike Stevens who had been relatively quite so far this season, but should be someone opposing teams look out for from now on.
They get to take on the New York Guardians next week and should look to ride this wave against a Guardians team still trying to find an offense.
3. Dallas Renegades (2-1)
Another win for the Renegades proved that they are a better team with Landry Jones behind center. Donald Parham also built off his strong 76 yard & 1 TD day in week 2 and had a 101 yard & 2 TD day in week 3. Parham apparently is looking to claim the mantle of 'Best TE in the XFL' and should be well on his way if he continues to have these kinds of weeks.
The defense once again was not overwhelming, but they were great in the second half. The Renegade defense only allowed Seattle to drive down the field to their side of the 50 once in the second half.
Dallas returns home this week, just in time to host the first XFL Texas battle as they take on the Houston Roughnecks.
2. St. Louis BattleHawks (2-1)
In the return of football to St. Louis, the BattleHawks gave the fans something to cheer about as they won in controlling fashion over the New York Guardians. Jordan Ta'amu may have fallen out of the top 5 in rushing this season, but has risen to number 2 in passing yards. His rushing work was also was not sorely missed as Matt Jones and Christine Michael more than made up for it as they combined for 139 yards & 2 TDs. The defense also played tremendously when it mattered as they only allowed the opponents to go 1-for-3 in the redzone and a combined 3-for-13 on third and fourth down conversion attempts.
St. Louis continues to be a run-first team that has allowed Jordan Ta'amu to progress without forcing the game on his shoulders. They also proved to have some ingenuity with their kick return TD last week, which is promising that they won't be stubborn about running the ball too much going forward.
The BattleHawks will host the Dragons next and will most definitely look to play a game similar to that of last week.
1. Houston Roughnecks (3-0)
It is almost impossible to place the only remaining undefeated team anywhere else as the Roughnecks retake the top spot in the league after a one game hiatus. PJ Walker continues to dazzle audiences as he airs it out to Cam Phillips in the endzone. The duo have league leading numbers in passing yards, receiving yards, passing touchdowns, and receiving touchdowns. It will be interesting how long Phillips TD streak lasts as he as accounted for all of Walker's last 6 TD passes (3 each in the past 2 games).
Though the defense hasn't been the best, being an average June Jones defense, it has still been able to do enough the win the game. They make plays when they need to and have done their best dealing with an unbalanced amount of time of possession that the offense forces on them.
They will face a challenge this week taking on their instate rival, the Dallas Renegades who are on the rise.
For more Time Skew Content Visit us on Youtube, Follow us on twitter, and listen to the Time Skew Podcast on Apple Podcasts.
XFL week 4 power rankings!

Tweet
Read More:
Co-host and contributor for the Time Skew Podcast.