4 Players the Falcons Could Move on From & Candidates to Replace Them
It appears that the Atlanta Falcons are heading towards an off-season where big names will be leaving, and money will be tight. Atlanta is working with roughly $6 million in cap space and have already acknowledged the fact that big names like Austin Hooper will not be returning. So, let's evaluate the situation at hand, and look at potential replacements for players leaving the Atlanta Falcons in 2020.
RB Devonta Freeman
The Atlanta Falcons are paying quite the big dollar for Freeman. As such, rumors have been swirling around that Atlanta is looking to cut Freeman to free up cap space. Unsurprisingly, Atlanta has been trying to move his contract for quite some time. It was rumored that a deal was being worked on between the Lions and Falcons during the trade deadline to move the pro bowl running back. Seeing as it is a virtual guarantee Freeman won't be a Falcon next season, let's view the other options Atlanta has.
Lamar Miller, Texans
Miller's lackluster tenure in Houston is going to make him a fairly cheap target for a team who needs a veteran rusher. Seeing as he also missed the entire 2019 season with a torn ACL, Miller's value will likely be very small. However, if he were to split reps with Ito Smith, perhaps Miller could prove as somewhat of an effective, change of pace, type of player.
Signing Likelihood: 5.5/10
Austin Ekeler, Chargers
When Gordon was out, Ekeler proved he was a reliable starter, even if he wasn't a pure rusher. Seeing as LA will likely move forward with Gordon's contract, Ekeler will be looking for a new home. Atlanta makes sense as he can use his receiving skills to the fullest in a system where the running back gets the ball in the pass game frequently. He will also not be an every-down back, meaning Ekeler will be put in almost the exact same situation he was in with LA, except he doesn't have any competition. The Falcons would give Ekeler the best chance to thrive if he leaves LA.
Signing Likelihood: 6.5/10
J.K. Dobbins, Ohio State
It appears that from combine interviews, the Falcons are crushing very hard on two rushers right now. Firstly, Dobbins is an all-purpose back that can be an efficient workhorse. He would slot in as an immediate starter and be the Falcons future back for years to come. Atlanta has drafted a running back every year since 2016 (Coleman, Hill, Smith, Ollison) and that appears to be a top priority for Atlanta this year.
Drafting Likelihood: 8/10
Cam Akers, Florida State
This is the guy the Falcons are keen on getting. Akers is being slept on as a top running back considering the talent ahead of him. However, the Falcons are by far and away the team most impressed by what they've seen. It wouldn't be a shock if they took him over some other backs who may fall in this draft. Nonetheless, Atlanta may even invest something as high as a 2nd round pick into Akers. It would be a surprise if anything if Atlanta doesn't grab Akers in this draft.
Drafting Likelihood: 9.99/10
TE Austin Hooper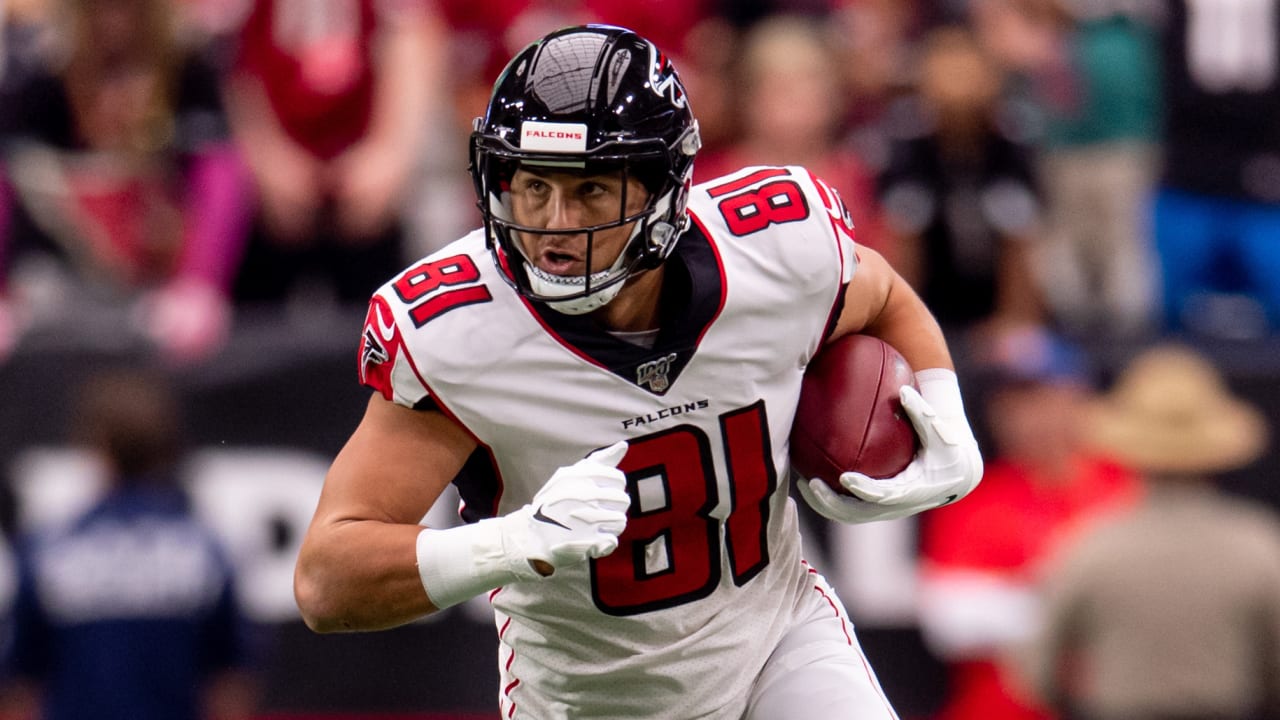 One of the biggest shocks to many Falcons fans is that they would not be resigning Austin Hooper. Instead, choosing to let him walk in free agency. A strange game-plan seeing as they didn't try to trade him during the season, knowing full well they were out of the playoffs and most likely out of money as well. Nonetheless, the Falcons have tons of paths they can go down in terms of a future tight end.
Jordan Reed, Redskins
Reed was recently cut by Washington after clearing a concussion protocol that lasted weeks. Seeing the gamble any team would likely take by signing Reed, considering his injury history, Atlanta and other suitors would be hesitant to pay Reed a serious contract, thus making him a valuable signing if he remains healthy.
Signing Likelihood: 6/10
Adam Trautman, Dayton
Trautman is the definition of a developmental player. However, considering the cap space Atlanta has, a cheap developmental prospect might be the only choice. That's not to say, that if handled properly, Trautman couldn't be a fantastic player. His raw athleticism is rare for a tight end. The Falcons turned an unknown like Austin Hooper into a Pro Bowl tight end and they could very much do the same for Trautman.
Drafting Likelihood: 7.5/10
Albert Okweugbunam, Missouri
Okweugbunam had a sudden fall in draft stock over the 2019 season at Missouri. However, an inferior QB and injury problems were major reasons for his production decline. Yet, at the combine, Okweugbunam showed exactly why he was originally considered the best tight end in this class. Though he may not have first round stature, he may certainly be the most valuable tight end this class has to offer.
Drafting Likelihood: 8.5/10
Thadeuss Moss, LSU
Moss rose up draft boards very quickly during LSU's championship season. Of course, having Randy Moss as your dad also helps your stock. Moss certainly has the build of a tight end and can catch the ball. However, much like Trautman, Moss will need lots of development if a team wants him to be successful. It feels like Moss has the most boom or bust potential. But as said before, Atlanta is amazing at developing tight ends, and considering the 4th round draft projection Moss sits on, he could be a huge grab for the Falcons.
Drafting Likelihood: 9/10
EDGE Vic Beasley Jr.
Beasley's lackluster tenure with the Falcons was a huge disappointment. Dan Quinn's first draft pick had huge potential that ultimately fell flat on it's face. Seeing as Beasley is for sure gone, let's look at how Atlanta will fill in one of it's most crucial positions.
Yannick Ngakoukwe, Jacksonville
Ngakoukwe really blew up as a surprise for the Jag's. A huge surprise that they seemingly can't afford. It appears Ngakoukwe will be a huge free agent target for many teams. Meaning Atlanta will have to clear up cap space to make a move on him. However, if Freeman is gone, Atlanta could easily strike a deal with the top tier edge rusher, and eliminate one of their most desperate needs.
Signing Likelihood: 7/10
Dante Fowler Jr., LA Rams
Fowler was taken 5 picks before Beasley in the 2015 NFL draft. However, he has said that he would like to play in Atlanta in 2020. Fowler had a strong season with the LA Rams, yet, his inconsistency will likely make him a fairly cheap target. Seeing as Atlanta would likely not want to shell out big bucks, getting Fowler on a decent deal would be the ultimate low risk, high reward deal Atlanta needs.
Signing Likelihood: 9/10
A.J. Epenesa, Iowa
The Falcons already made a comment about the great skill Iowa produces in the NFL draft. Of course, Atlanta wouldn't be concerned with anyone but Epenesa from Iowa. Epenesa was once considered a top prospect. However, his stock has fallen to right around where Atlanta will be drafting in April. Epenesa's high floor and high ceiling should make him very desirable, and if it weren't for our next prospect, Atlanta would be all but guaranteed to take Epenesa.
Drafting Likelihood: 7/10
K'Lavon Chaisson, LSU
The Falcons did not at all hide their feeling about Chaisson at the combine. Basically all but outright saying he is the guy they want the most. Chaisson is certainly a very skilled player, and can fill in as an outside linebacker or an edge rusher. That kind of versatility is amazing, and Atlanta would be hard pressed to pass on him
Drafting Likelihood: 10/10
OLB De'Vondre Campbell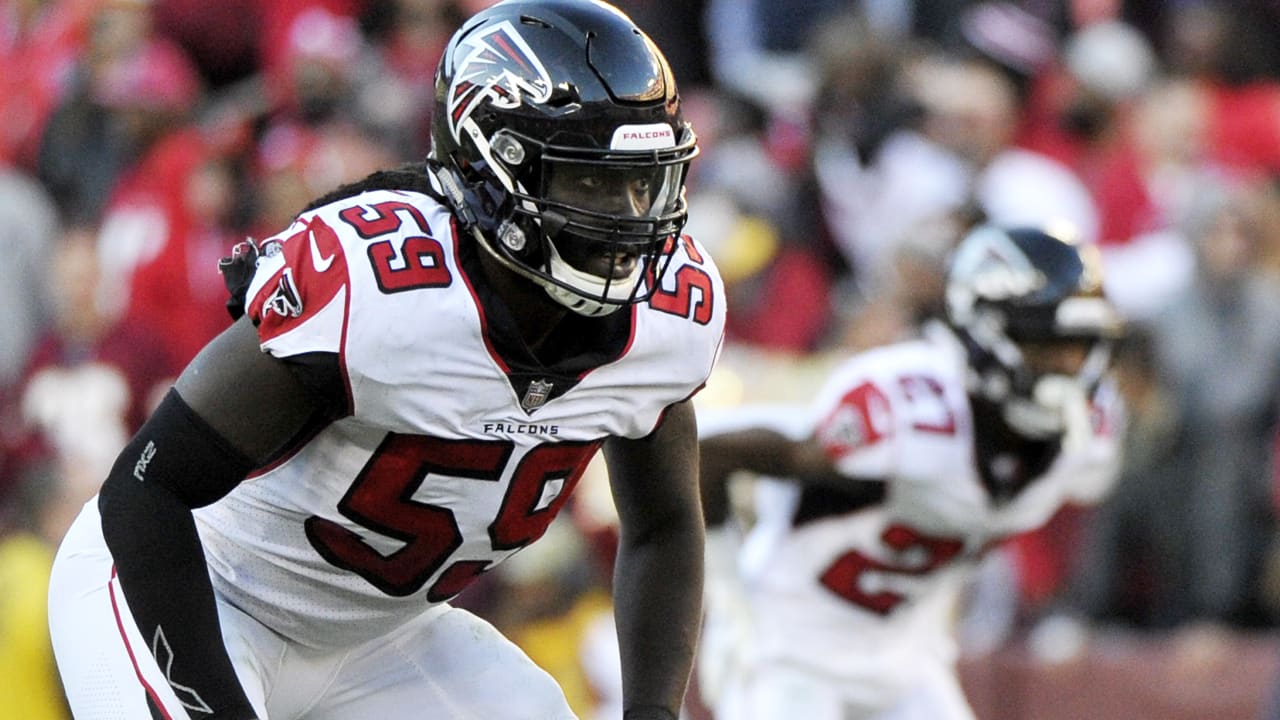 Campbell was a great surprise for the Falcons. He was an underrated fourth-round selection that started right away and never lost his job. It seems as though he is due for quite a big contract, which Atlanta isn't very keen on giving to him. So, as we have done with everyone else, let's see who may replace him.
Foyesade Olukon, Falcons
Well, let's start with the in house talent. Olukon was a sixth round selection out of Yale who proved to be a great tackler and reliable coverage linebacker. However, of course, given the fact that Atlanta has holes at BOTH outside linebacker spots, Olukon will get his time, but he will have a new teammate alongside him.
Starting Likelihood: 10/10
Jamie Collins, Patriots
Collins re-surged when he came back to New England. He was an excellent run stopper who could cover his zone well. He really does play like a much better version of Campbell. However, he may be fairly pricey, and will certainly have a crowded market.
Signing Likelihood: 5/10
Patrick Queen, LSU. Kenneth Murray, Oklahoma. Isaiah Simmons, Clemson.
I group all these guys together because Atlanta talked to all of them at the combine. Meaning that they are certainly interested in these guaranteed first round prospects. However, seeing as their so high on an EDGE rusher, Atlanta will certainly need to trade up or back into the first round for any one of these guys. But, if they talked to all of them, then there is a strong chance that could happen
Drafting Likelihood IF trade up or back into first round: 10/10
Drafting Likelihood IF no trading: 3/10
If you enjoyed this article and would like to catch more content from me, you can follow me on Twitter here! If you want to get updates on every new Time Skew article, you can follow them on Twitter here!
For more Time Skew Content Visit us on Youtube, Follow us on twitter, and listen to the Time Skew Podcast on Apple Podcasts.
4 Players the Falcons Could Move on From & Candidates to Replace Them

Tweet
Read More:
E