49ers Draft Discussion: Who to Draft that Could Eventually Replace Joe Staley
In these draft discussions, rather than just dropping a quick top 10 list, I try to take a deeper look at how the San Francisco front office might be planning for their future. My previous pre-combine article discussed ways they could find a true X receiver. The offensive weapons are always flashier to write about than the big guys up front. Envisioning an 80-yard catch-and-run will always evoke more excitement than just imagining an Offensive Lineman doing his job. Linemen are at their best when you don't hear their names. If you're noticing them, it's usually a blown block or a penalty. Outside of injury, San Francisco hasn't needed to worry about their Left Tackle position for a long time, and that's why just writing scenario 2 of my 2020 draft discussion makes me sad.
There are some things in life you can't escape; getting old is one of them. Seeing your heroes age and ride off into the sunset is a struggle for many fans, and the longer you watch, the more it happens. LT Joe Staley has been a staple of the 49ers for much of my time watching the team. Both his personality and his ability have been an anchor through 7 head-coaching changes and 13 seasons. Joe first considered retirement after the abysmal 2-14 season with Chip Kelly and the topic seems to come up after every season. As of this writing, John Lynch believes Staley will be back for the 2020 regular season. The problem is, once you start to think about retirement, that idea stays in the back of your mind until the day actually comes. Joe just signed an extension in 2019 that covers him through 2021 and his 2020 $10.55m salary becomes fully guaranteed if he remains on the roster through April 1st. I expect him to make an official announcement prior to that date and I believe he will be back in 2020. That being said, Staley turns 36 next season and I can't imagine him wanting or getting a contract beyond 2021. As sad as it is, we need to recognize that Joe will be gone sooner rather than later. San Francisco needs to plan for the dark day when he decides to hang em up for good, hopefully with a Super Bowl LV ring.
I'm sure there will be more than one conversation with him behind closed doors about his plans after the 2020 season but I doubt he'll be able to say for sure until around this time next year. As it stands, 2019 6th-rounder, Justin Skule or former Falcons practice squad player, Daniel Brunskill would be the front-runners to fill in for the 6-time pro-bowler if Staley decides to walk away. Both Brunskill and Skule started in 2019 after injuries to Staley and RT, McGlinchey, caused both to sit out a few games. Notably, Brunskill ended up subbing in for Skule while the latter was struggling against the Packers back in November. UFA Shon Coleman could battle for snaps if the 49ers opt to work out a deal with him. Lynch and Shanahan thought enough of Coleman to trade away a 2019 7th-round pick to the Browns just prior to the beginning of the 2018 season. His draft grades suggested he could be a future starter with proper development and he had appeared in 23 games for the Browns prior to the trade. Shon has not seen any regular season snaps with San Francisco and spent all of the 2019 season on IR due to an ankle injury that occurred during the first preseason game. Interestingly, Coleman was listed ahead of Skule in the depth chart prior to the injury. If the 49ers want to give him one more shot, they could likely bring him back to compete for a spot on a cheap 1-year deal.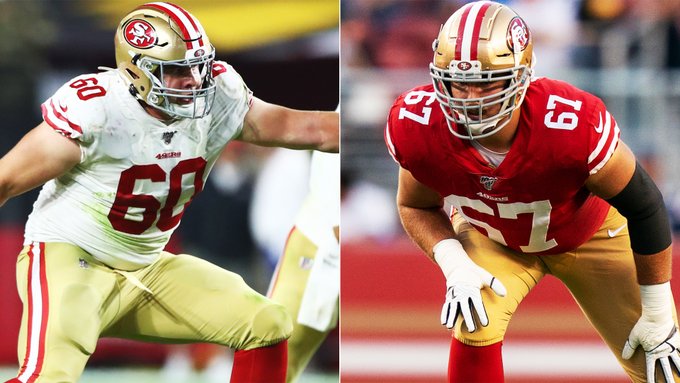 The in-house options have some promise but it remains to be seen if any of them can progress far enough to truly replace a player of Staley's calibur. Because of these question marks, I expect John Lynch and company to draft a LT either this season or next season. My gut says it will happen this season to ensure the rookie has time to learn behind Joe before he moves on. The question is, how much draft capital do they spend trying to draft the heir apparent? San Francisco only has 1 pick prior to round 5, so my money is still on a trade-back scenario. That being said, OT isn't the deepest group in this draft, especially if you write off trying to convert those that usually play RT. If San Francisco wants to find someone that can fill Joe's shoes, they'll likely need to do it in the first couple rounds. My main focus will be on LTs that would be a fit for San Francisco's zone scheme and players that could be available when the 49ers are on the clock and most of these would be after a trade-back.
One prospect that usually projects towards the end of the first round is Houston's Josh Jones. He didn't really blow anyone away at the combine but most of the guys that did will be gone by this point. That being said, he had a great Senior Bowl and projects to have a high ceiling with proper development. His hand and foot techniques need some polish and some concerns have been raised about his football IQ. That being said, most evaluators feel he can learn and surpass these shortcomings. Jones had great size and athleticism and should fit well with San Francisco's zone scheme.
Assuming the 49ers trade out of the first round to recoup some picks in rounds 3-4, they'll need to look at potential values available later in the draft. The word "raw" shows up in one form or another in most of Wanogoho's draft profiles. He is quick and agile for his size with an explosiveness that you don't see in every LT. He's a fantastic athlete who is competitive and keeps pushing until the play is blown dead. Again, he'll need to be further developed but he could be a multi-year starter if his technique catches up with his physical abilities.
Bartch is another possible target after trading out of the first round and will likely still be there in the third. Ben is familiar with zone blocking and showed good technique, often being described as "dominant" at the DIII level. He has a polish that the other prospects on this list don't and showed the Senior Bowl that he wasn't afraid to go against top prospects. He plays smart but will still need coaching to reach his potential. If he showed the same results against stronger competition during his college career, he would likely be projected much higher and he could end up being a steal.
Taylor will likely be a deeper pick than the others on this list and he will need much more work to develop into a player Shanahan would feel comfortable with starting. He's a converted basketball player that has the physical potential to be something special. He will need to add a lot of muscle and improve his technique but his upside could be worth a later round pick.
This year's draft will be telling with regards to who the 49ers are projecting to leave the team within the next couple years. In 3 years John Lynch and Kyle Shanahan have rebuilt this team and now they have a strong core they need to keep together. The challenge that comes with success is drafting to replace the talent they can't keep indefinitely. I'm excited to see what they can do.
For more Time Skew Content Visit us on Youtube, Follow us on twitter, and listen to the Time Skew Podcast on Apple Podcasts.
Is the future of the 49er's LT position already on the roster? Or will they look to the draft?

Tweet
Read More: