XFL Power Rankings: Week 5
Sorry for the wait, but after days of deciding here are the power rankings for week 5 of the XFL.
8. Seattle Dragons (1-3)
Right now Seattle has to be at the bottom, their recent work against St. Louis in the second half wasn't enough to pull them up the rankings. They shouldn't spend too long down at the bottom because they have the best tackler in the XFL in Stephen Johnson and decent defenders backing him up. Their offense also seemed to have more of a spark when they had BJ Daniels at quarterback.
Daniels supplies a rushing ability at QB that Brandon Silvers does not have, but it still is to be seen how he does with a bigger workload and how his passing is when given a full game. That being said he should be given the starting job because the Dragons need to change something up as they are the only team to not score 20 or more points in a game. They are also facing the best team in the league this week and will need to pull out any trick that will make the game competitive.
7. DC Defenders (2-2)
Oh how the greats have fallen. After being considered the top team in the league a few weeks ago. They have been blown out in their first two road tests, including getting shutout by the previously-winless Vipers. Cardale Jones has thrown for a total of 175 yards over this time with no touchdowns and 5 interceptions.
They were expected to bounce back last week after their first loss to LA and instead they broke through the trampoline, falling flat on the ground. Though they are returning to their friendly-confines of Audi Field, but it feels 50-50 right now if they will able to return to form.
6. Los Angeles Wildcats (1-3)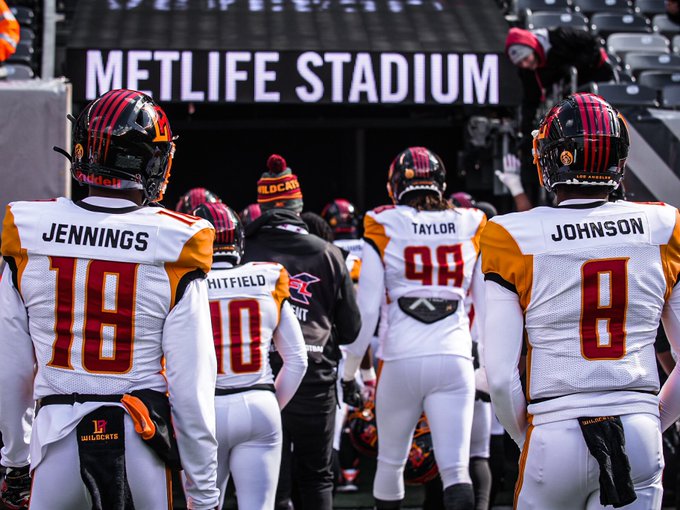 Josh Johnson and the Wildcats appeared to have all eyes in the football world on them after their drubbing of the Defenders. Unfortunately, that attention may have caused some stage fright as they lost to a lackluster Guardians offense. The offense was able to push the ball downfield, but came up short when they needed points the most. They had 4 drives in the second half that made it into their opponent's territory and got only a single touchdown out of them.
They also had little help in the rushing department, but that was partially because they only handed the ball off 12 times. So, the main focus of the Wildcats this week should be on finishing drives, whether it be scoring touchdowns or kicking (and making) field goals. Going up against the Vipers who have also upset the Defenders now, should be an interesting match up and one that will help iron out there problem or highlight another.
5. New York Guardians (2-2)
Luis Perez is back. Perez got the start and managed an okay game. He didn't light the scoreboard up in neither good nor bad ways. Which was good because it allowed Darius Victor to display his ability when given a decent workload, giving New York more control of the clock.
The defense didn't play spectacular, but they didn't play bad. They can probably be best described right now as lukewarm, because they didn't wow anyone with their play and barely squeaked out a win. However they did win and that is a step up from their two previous weeks and Victor continued to show promise though the offense as a whole still has some work to do if they want to continue to compete.
4. Tampa Bay Vipers (1-3)
They finally did it. The Vipers finally joined the rest and earned their first win and in impressive fashion with a shutout. Though they had multiple broken plays throughout the game, they were able turn them into positive gains. Call it talent or luck, they should still get some credit for it. De'Veon Smith and Jacques Patrick also became the first and second running backs to get more than 100 yards rushing in a game, just to highlight their dominance on the ground.
That dominance should continue and if it is at this same level for any of the games throughout the rest of their season, they can expect to win all of those games. We may even see this next week when they take on Los Angeles
3. Dallas Renegades (2-2)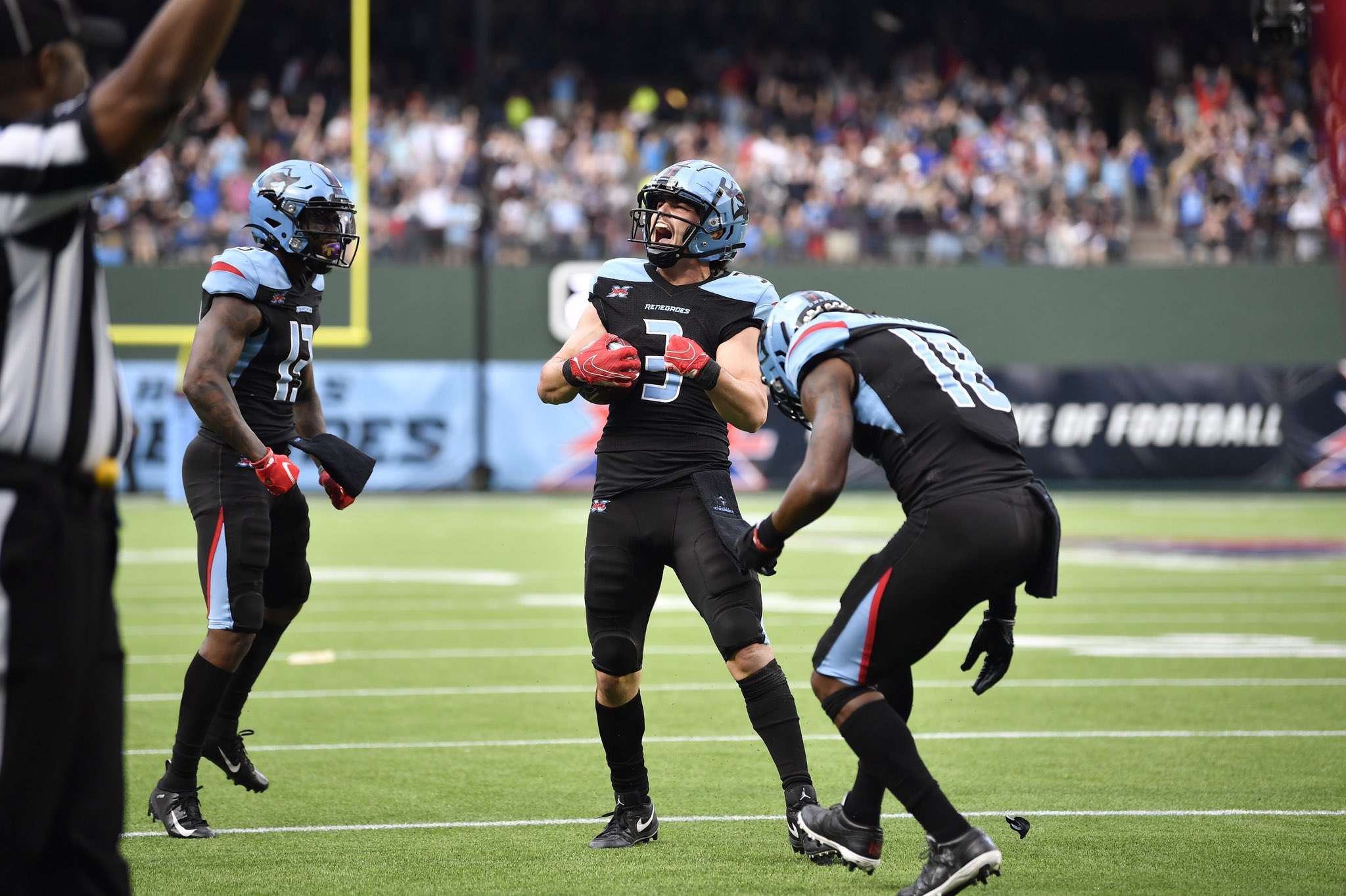 A scary week for Dallas as they watched their quarterback, Landry Jones sustained another knee injury and is expected to miss the next 2 weeks. They come in at third this week, but if Cameron Artis-Payne and Lance Dunbar cannot hold up the offense while Jones is out, we could easily see them fall. That being said, Artis-Payne has shown the ability to have blow up games, having the third highest rushing yards in a game on the season from their week 2 bout. The defense has also been solid throughout the season, they given up the third least yards allowed per game (308) and second least in points allowed per game (18).
If their backup quarterback, Philip Nelson, can fill the role of a game-manager and not "lose" them games through his decision-making. Then the Renegades could make it through this week with a win when they host the Guardians and might be able to take down the DC Defenders next week if DC doesn't break out of their slump.
2. St. Louis BattleHawks (3-1)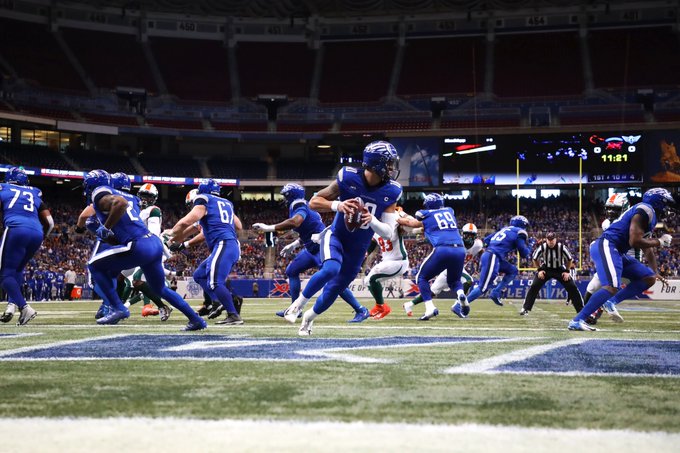 Playing another strong game last week, the BattleHawks come back in the rankings at number 2. They didn't have their running backs going as strong as in previous weeks as Christine Michael and Matt Jones averaged 2.3 and 1.3 yards per carry respectively. Quarterback Jordan Ta'amu actually ended up as the leading rusher, running for 63 yards and he also ended up with a reputable 116.9 passer rating.
Though not having many outstanding individual statistics, the defense has also been solid throughout the season as they have allowed the lowest point per game in the XFL (15.5). They should be put up to a test when they travel to DC to play a Defenders team who is at their best when they are at home.
1. Houston Roughnecks (4-0)
Still the only undefeated team in the XFL, the Houston Roughnecks. PJ Walker did not have the eye-popping game that we have come to expect, but still had a good game by other XFL QB standards. What was most impressive about their battle against Dallas was how their defense showed up. They forced the Renegades to turnover the ball 5 times. Deatrick Nichols now leads the league in interceptions with 3 and had their secondary containing the usually prolific-passing Renegades.
The Roughnecks have now played in multiple close games, but as long as they keep pulling out the win it's hard to consider them anything other than the best team in the league. On top of that we should expect them to maintain their perfect record as they play host to Seattle.
For more Time Skew Content Visit us on Youtube, Follow us on twitter, and listen to the Time Skew Podcast on Apple Podcasts.
XFL Power Rankings: Week 5

Tweet
Read More:
Co-host and contributor for the Time Skew Podcast.