Second Year Wideouts Flying Under the Fantasy Radar
5 min read
Just because a player doesn't excel immediately, doesn't mean they won't be stars. Some prospects take lots of time to develop, but we always...
Just because a player doesn't excel immediately, doesn't mean they won't be stars. Some prospects take lots of time to develop, but we always see tons of guys make the year two jump. However, it's not always apparent which players are going to make that jump. They may have not had a lot of playing time in year one, or haven't reach their full potential. Either way, these are the second year fantasy wideouts flying under everyone's radar.
WR N'Keal Harry, Patriots
2019 Stats: 12 catches, 105 yards, 2 touchdowns in 5 games started
A lot of Patriots fans are split on Harry. Some have downright given up on him, while others saw the flashes of greatness of what could be coming in the future. Overall, the Patriots passing game last year wasn't anything spectacular. As a depleted Brady dealt with an inconsistent offensive line. Harry did not receive a lot of attention in the Patriots passing attack. Edelman demands a lot of targets, while the mid-season acquisition of Mohamed Sanu was an attempt to fix the problem. Brady loves his veteran guys, and Harry's playtime came when injuries were a problem or when his fellow pass-catchers were playing below par. Overall, it wasn't a scenario built for a successful Harry rookie season.
However, offensive coordinator Josh McDaniels has spoken highly of Harry on many occasions. With Brady gone, Harry will have to adapt to a new Quarterback. Yet, this may be more beneficial. Whether it's Stidham or a drafted QB, developing a young connection will be positive for both Harry and their future signal caller. Harry also dealt with an injury that had him on IR for the first half of the season. So, a clean bill of health and a full off-season to prepare for year two will be crucial for Harry's success. He could possibly capitalize on aging vets Edelman and Sanu's below quality seasons and become the true weapon of the Patriots future.
Find out where we have Harry ranked in dynasty here
A lot of dynasty players may have stashed Harry away as a great fantasy owner would. However, for non-dynasty players, a low round draft pick spent on Harry could be a huge payoff. He was a top draft pick for a reason, and sooner rather that later he will be the Patriots top target. The more catches, the more yards, the more scores, the more fantasy points in your pocket. Harry is a sleeper among second year wideouts for fantasy.
WR Jalen Hurd, 49ers
2019 Stats: Did not play
The 49ers loaded up at the Wide Receiver position in the 2019 draft. Securing both Deebo Samuel and converted Halfback Jalen Hurd in rounds 2 and 3 respectively. Unfortunately, Hurd didn't play during the 49ers' Super Bowl run. Deebo is the clear cut number one guy for San Franciso with Emmanuel Sanders departing for New Orleans. Hurd is a great weapon for the 49ers that could actually benefit more from missing his first season. As previously mentioned, Hurd was formally a Running Back. While it's not all that uncommon to see Running Backs switch to Receivers, it is still a different role, despite many similarities. Having the time to adjust to not only his new position but where he fits in Kyle Shanahan's scheme, is going to be crucial to Hurd's success when he debuts.
Hurd is in a position where all but the top receiver position is waiting to be filled. Seeing as the Niners' spent the 68th overall pick on him, they will certainly give him plenty of opportunities to show to the 49ers faithful what he brings to the table. There is not a lot of competition in front of Hurd, and he is a small name as of now, but for a 49ers team looking for more receiving threats he could be a huge surprise in 2020.
Dynasty owners should be stashing this guy ASAP. While he may take a few weeks to come in to his own, picking him up off the waiver wire early in the season will prove bountiful for any fantasy owner. Hurd could very will be the biggest surprise in terms of second year wideouts.
WR Olabisi Johnson and WR Dillon Mitchell
2019 Stats: Johnson – 31 Catches, 294 Yards, 3 Touchdowns in 6 games started. Mitchell did not play.
The Vikings have struggled to find a true number three receiver to pair with Diggs and Thielen. Now, they've lost one of those players with Diggs being sent to Buffalo. Thielen and Cousins will badly need some play-makers to emerge in this weak Wide Receiver corps. However, a couple 7th round picks may prove to be Minnesota's saving grace.
Johnson was starting to grow into Minnesota's true third Receiver towards the end of the season, which should get Vikings fans excited. He will have left the best impression when it comes to early considerations for who should take over the number two spot in Minnesota. Johnson should be a late round pickup in most drafts because of his role. He will get lots of targets, which going off of his performance in 2019, will only make him better. He is going to greatly improve over the off-season, even if Minnesota brings in a new receiver. Johnson has a secured role on Minnesota's offense next season, barring anything unforeseen.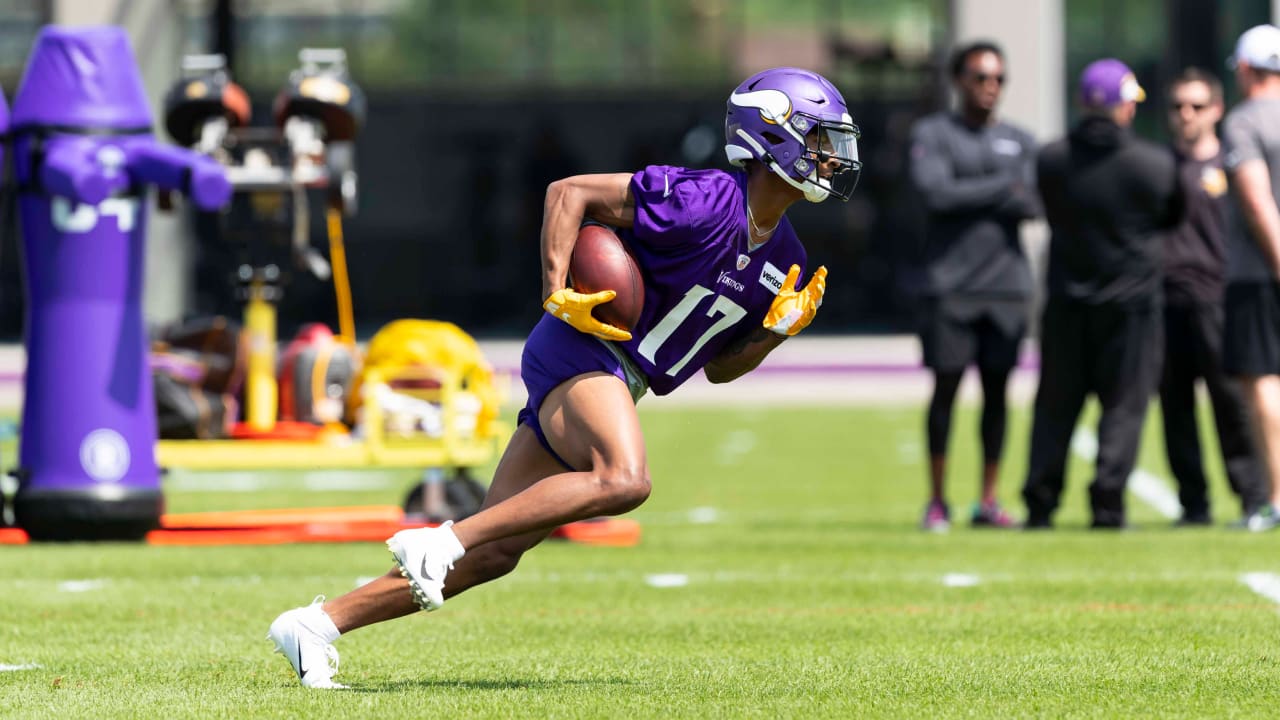 Mitchell on the other hand, did not see a single snap in 2019.
The Oregon product had great chemistry with one of this years top Quarterback prospects in Justin Herbert. Herbert clearly missed Mitchell last season, which proves his value. Minnesota lost not only Diggs, but also former first round pick Laquon Treadwell. This gives Mitchell first dibs at the third wide receiver spot. This speedy phenom will greatly compliment Johnson's physical style, as well as Thielen's elite route running and downfield play.
Though unproven, his college tape speaks a lot to what he can do. Giving him a year to take in the NFL and adjust to a different system than what he was used to at Oregon is shaping to create the perfect scenario for Mitchell. Both him and Johnson will be amazing second year wideouts, and may solve Minnesota's Wide Receiver problems for good.
If you enjoyed this article and would like to see more from me, make sure to follow my Twitter here to get notified when I release something new!
For more Time Skew content, be sure to check out our Youtube! Also follow us on Twitter, and listen to the Time Skew podcast on Apple Podcasts!
Read More: