Chargers Offseason: Pre-Draft Review
The Chargers have actually done something this offseason. After seeing how doing not a lot the last offseason barred the team from making consecutive playoff appearances. The management team seemed like they wanted to compensate for that with their free agency deals this year. They also could have been bored with the stay at home order.
Either way, there was a multitude of deals made to bring new guys to LA. Some moves deals made to bring key players back and other deals were not made in order to make room. This article will breakdown the big names returning on deals, the big acquisitions and the guys the Chargers let go and how this all effects what they need on draft day.
Returning Players
Let's start with what will stay the same. One of those being that Austin Ekeler will stay in a powder blue uniform.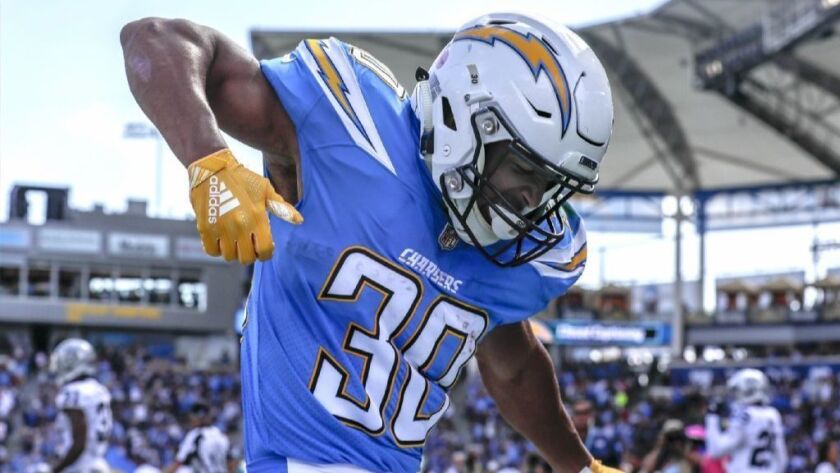 After spending his first two mainly as a receiver out of the backfield, Ekeler was able to show his worth as the main RB during Melvin Gordon's holdout last season. Though, his rushing yards dwarfed his receiving yards. He still was able to put over 550 yards and despite having some fumble concerns in the preseason and reaffirmed those concerns in week 2 of the season, he only ended up with 3 fumbles on the season. Which was better than other RBs with similar or worse workloads. Also before Gordon's return, Ekeler was on pace to get close to 900 yards rushing on the season.
Will he get close to that amount of rushing yards this season as the presumed starter throughout? Possibly, there is also the strong possibility that he will split rush attempts with Justin Jackson. All in all, he showed that he is able to produce. His versatility and shiftiness may be a better fit for the Chargers going forward as their current QBs suited to run the ball as well. So he and Jackson won't be the only ones shouldering the rushing work.
Also returning will be TE Hunter Henry. Henry signed back with the Chargers on a deal to make him the highest paid tight end in all of the NFL. This should be a little worrying to a guy who, despite having talent that should put him in the top-tier of tight ends, has been dealing with knee injuries over the past two seasons. One forced him to miss the entire 2018 season and the other forced him to miss 4 games last season. He should still be a great TE on the field, but compared to other TEs who have had better production, but are mostly making at least $1 million less, the deal could be better. Though it was probably a little easier giving Henry the cash considering the players who left.
Player Departures
The biggest player departure this offseason probably has to go to the illustrious Philip Rivers. Though not always the most likable guy as he easily got into disagreements with opponents, officials, and even teammates. He was the franchise QB for over a decade and will be someone always respected by the Chargers faithful. He's the franchise leader in yards, touchdowns, wins and in fact, the only Chargers QB to have over 100 career wins for the team (123 total). Though while 2018 may have seemed like a possible renaissance to Rivers' career, 2019 was like a recession.
His TD:INT ratio was the worst it has ever been and was lucky that Baker Mayfield and Jameis Winston also had terrible interception seasons Rivers go under the radar. By the way this was the first time since 2013 that multiple QBs threw 20+ interceptions in a season. However he does leave a big hole as he was a great QB. Rivers threw for 4,000+ yards each season for the past 7 years. His 23 TDs was also the least he had thrown in a season since 2006, so it was very irregular. Frank Reich could help him get back to form and he will still be a welcomed sight for Colts fans, shotput throw and all.
After giving Le'veon Bell's strategy a try, Melvin Gordon missed 4 games last year without getting a new contract from the Bolts, so he'll be in a division rival's uniforms this fall. Gordon only ran for 1,000 yards in one season (2017) which also happened to be the only season he played in all 16 games in 5 seasons. He has dealt with some injuries over the years. This obviously caused some worry for his longevity, but the main reason for his departure was the fact that the Chargers were unwilling to pay what Gordon was asking and the holdout was the nail in the coffin for his stint with the Bolts.
His leaving means that the Chargers lose a dual-threat RB who can catch the ball as well as he can run it that they never had to fully utilize under the Chargers current coaching staff due to Ekeler's proficiency in the passing game.
Yes, the fullback. He only had 29 total touches as a Charger over 5 seasons, but he always served his role well. Watt was a big reason why the team had decent rushing stats despite sub-par offensive line play. He also supplied good special teams play as a part of the coverage team. Not flashy, but a great player from a dying position.
Never a consistent starter, Phillips was versatile as a defensive back, helping out in nickel and dime coverages. Phillips was coming off of a big season in 2018 where he won All-Pro Special Teamer honors and had a career-high in tackles. Unfortunately for most of last year, he was injured. Along with Watt, the Chargers will need others to step up this year to fill these losses on special teams. The scariest part is that Phillips goes to New England and joins 2019 All-Pro Special Teamer, Matthew Slater, and the Patriots already a well-to-do unit.
Free Agent Acquisitions
Call it a fair trade, the Broncos sign the Chargers running back while the Chargers sign their cornerback. Probably the biggest surprise acquisition by the Bolts this offseason was their signing of Chris Harris. He is former All-Pro and has some championship experience. Harris has been considered a top corner in the league for years with 20 career interceptions and was a stalwart for the Broncos secondary. He will be a welcomed addition to an already stacked secondary with the likes of Desmond King, Casey Hayward, and Derwin James.
Along with being a great presence for the younger players on the secondary, Harris and Hayward will be able to comfortably take care of the outsides lanes of the field. Those two on the outside will then allow King to focus on the slot where he has been known to do his best work.
The first transaction of the offseason for the Chargers as they traded away LT Russell Okung. It was perplexing at the time, since they are both linemen and Okung is older and will take up more cap space in 2020 than Turner. Turner, on the other hand, has been to 5 consecutive pro bowls. So the Chargers seemed to get a steal. However looking at Turner's career is borderline amazing, though not in the right way. He has played in 13 games a season for his past 3 seasons.
So, it turns out to be a mixed bag. They trade a tackle who has missed games in each of the past 3 seasons for a guard who missed 3 games a season over the same time. The Chargers still probably won the trade because of Turner's youth and they have him under a 4-year deal while Okung is on the last year of his current deal. Turner has been ranked higher by PFF at guard over his career than Okung has been at tackle. There is also a stronger crop of tackles in this year's draft than there are guards.
Another offensive line addition. Bulaga gives the Bolts some needed stability at the tackle position. He is a solid lineman and has a lot of experience protecting high-priority talent (Aaron Rodgers) during his time in Green Bay. His presence should also help Ekeler and Jackson in the run game as he was a big part of Aaron Jones' success this past season.
Other Acquisitions
With a rookie season for 1st-round pick Jerry Tillery fell short of expectations and the release of Brandon Mebane. It was obvious that the Chargers were going to make a move at the DT position. That move ended up being Linval Joseph. Joseph has been declining in his production lately, but should be decent to have in between the Chargers edge-rushing duo of Melvin Ingram and Joey Bosa. Joseph can also hopefully be a mentor to Tillery and help him progress.
Nick Vigil was another signing that addressed a need at LB as play has been spotty for the Chargers over the past couple of seasons. Vigil has gotten better each season he has been in the league with the Bengals and will hopefully continue. Doing so alongside the younger linebackers on the Chargers. Their final signing of Darius Jennings is mainly for special teams purposes. Mostly because the team needed a returner to relieve a bit of the load off of Desmond King's shoulders.
Draft Needs
So this is where the Chargers are with the draft coming up in a couple days. The Chargers do still have some key positions they need to improve in:
Left Tackle
With moves made on the right side of the line and the loss of last year's starter at this position. Left tackle is the perfect place to start in the draft, especially with the players available. 3 of the top 4 OT prospects played as their teams blindside blockers in college. Mekhi Becton from Louisville and Andrew Thomas from Georgia both played LT in college. Jedrick Wills Jr. from Alabama played RT, but it was for a left-handed QB. All of them could be good picks for the team to make if the Chargers decide to go OT in the first round. They could also go after a LT day 2 if they don't want to use their 1st-round pick on it. Some mock draft have Boise State's Ezra Cleveland as a possible pick.
Quarterback
The other big position that many are projecting the Chargers could go after with their first round pick instead of tackle is a quarterback. They have publicly committed to Tyrod Taylor for next season, but that doesn't mean they won't have their eyes out for their next franchise QB in this draft. Most mock drafts are projecting for them to go with Oregon's Justin Herbert, despite recent concerns about his NFL readiness. Herbert has the physical attributes to become a great NFL QB, but will need to be able to learn how to be more consistent with his accuracy and footwork.
Tua Tagovailoa from Alabama was another QB rumored to be on the Chargers board. That is to say if he drops to them. Though, Tagovailoa brings his own concerns about injury to the table. They could snipe Jordan Love in the 2nd if he drops. If the Chargers are committed to Taylor, they could also wait and draft a QB later. They can also more likely invest in late to last round guy, like Bryce Perkins or Cole McDonald.
Linebackers
The weakest position in their secondary has to be their linebacking corps. The team has a fearsome duo on the line and a plethora of talent in the secondary. However, they still could use a playmaker in the middle. Another 1st-round pick possibility thrown around for them is that they go after Isaiah Simmons from Clemson. He is a tremendous athlete who earned the honor of being drooled over by every scouts. Simmons, designated as a LB/S, is obviously versatile and should be great in coverage.
A later-round selection though that the Chargers could go after is Troy Dye from Oregon. Dye doesn't have the same amount of raw athleticism that Simmons has, but can still be a solid pass-coverage LB.
For more Time Skew content, be sure to check out our Youtube! Also follow us on Twitter, and listen to the Time Skew podcast on Apple Podcasts!
Read More
Co-host and contributor for the Time Skew Podcast.