Arizona Cardinals Schedule Release Reaction
Normally the schedule release is a highly anticipated offseason date. Coaches can start organizing travel plans, teams can start selling tickets, fans can start planning their back half of the year. Personally I try to get out to 2 or 3 games a year and like to pick which games ASAP. That obviously won't be happening with the same punctuality this year. I'm an optimist and if things change, they change (Miami has already proposed some measures for this upcoming year). But regardless this is still a plan worth looking into if society figures out a way to get sports back in some capacity this year.
Signup below for all your Arizona Cardinals updates!
Let's dive into how this tentative schedule would go for your Arizona Cardinals. We've known our 2020 opponents since the end of last years regular season, we also knew we were supposed to give up a home game to play the 49ers in Mexico this year, that is no longer happening. To summarize, we are playing:
NFC West x2
AFC East
NFC East
2 fellow 4th place finishers (Panthers, Lions)
Just looking at the breakdown you have to like our out of division schedule, the bad man in New England is gone and left the division without a clear powerhouse (relax Bills fans) and the NFC East is still full of perennial underachievers. And then our similarly last place NFC teams haven't quite taken the same step forward as the Cardinals.
Schedule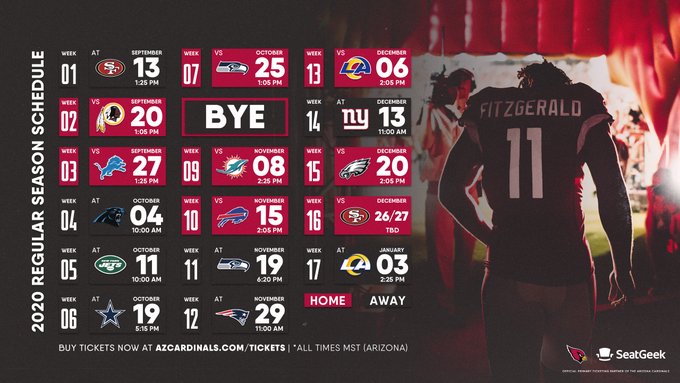 Part 1 (Wk 1-5): Confidence building
We start off with a difficult matchup against the reigning NFC Champs. We played the 49ers extremely closely both times last year and they seem to have added fewer pieces than the Cardinals, so maybe we can finally close that gap this year. Then we have an amazing run of playing 3 last place division teams in a row and the Jets (basically 4 in a row). 2 home games against Washington and Detroit followed by 2 cross country trips to the east coast. I think even the most pessimistic fans would be disappointed leaving this part of our schedule without a winning record.
Part 2 (Wk 6-10): Mid-season tests and a home-stand
We then travel for a 3rd week in a row to Kyler Murray's home state to face the Cowboys on MNF followed by a visit from the Seahawks and a bye. Going into the bye we should have a very good idea of where the Cardinals stand across the NFL landscape and if we can expect playoffs or just a step forward.
After the bye we get to stay at home for another 2 weeks as the Dolphins and Bills take long flights to come visit us.
Part 3 (Wk 11-17): Playoff push?
We enter the latter part of the season with trips at Seattle on Thursday night, New England, and New York in 4 weeks sandwiched around a break to see the Rams fly into town. That's a lot more travel with 2 10 am starts, thankfully the Patriots and Giants aren't up to their recent standards so hopefully, that softens the blow (Chase Edmonds also single-handedly won the game in New York last year).
More: Read our review on the Cardinals draft picks here.
We then finish with a brutal stretch: home against Philly, home against the 49ers, then a trip to see the Rams in the season finale. If we hope to make the playoffs hopefully it's early and we put as little pressure on those last 3 games as possible.
Final Thoughts
Our division is traveling the farthest in the NFL since we're matched up against both East divisions this year. Having an iron clad 10 am PST start schedule is going to be critical. We surprisingly have the 8th hardest schedule in the league, but it really doesn't look that bad on paper. Now, of course, this is all up in the air and there may have to be revisions/delays. But we'll be ready when that happens!
For more Time Skew content, be sure to check out our Youtube! Also follow us on Twitter, and listen to the Time Skew podcast on Apple Podcasts!
Read More: