2020 fantasy football player profile: Mark Andrews
Hold on tight, it's time to continue the fantasy profile series of key Baltimore Ravens players!
This series analyzes each player's 2019 fantasy performance, looking into the key factors that will have an impact on their 2020 performance. Finally, I give my advice on where you should be looking to draft each player. For part three of this series, let's take a look at tight end Mark Andrews.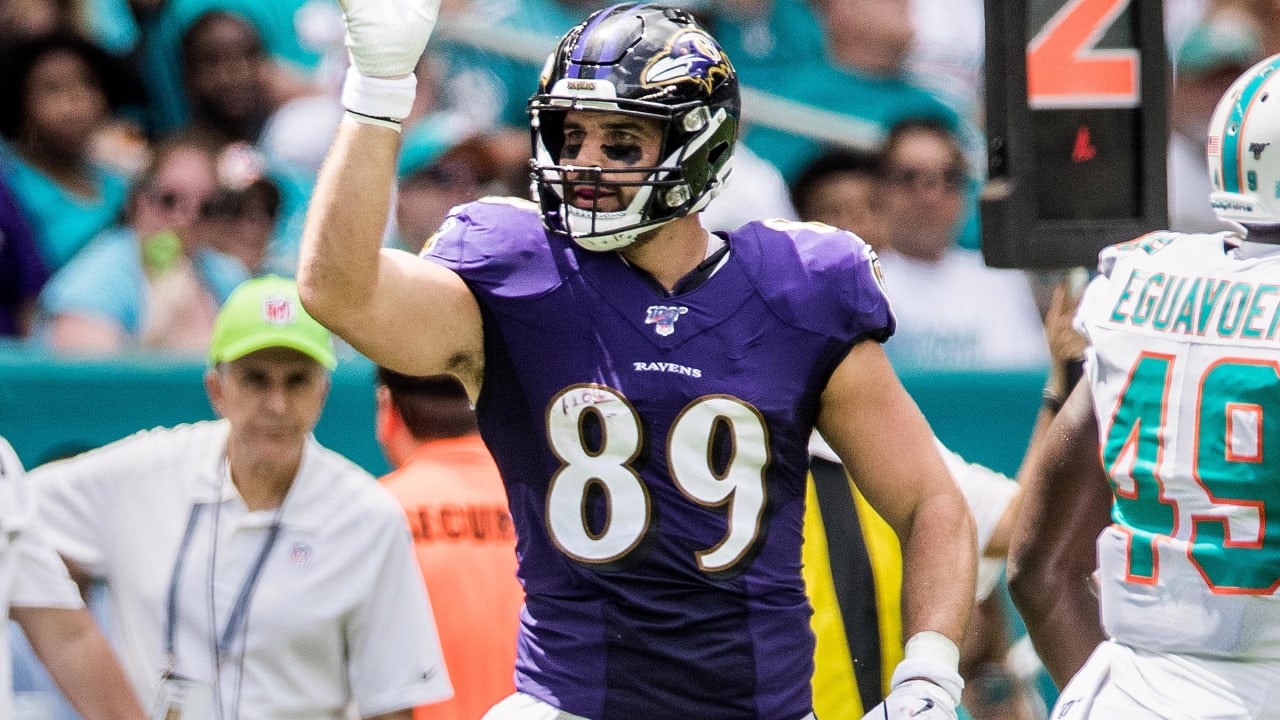 Looking back at 2019
Performance on the field
Starting tight ends normally begin to break out as early as their 2nd year in the league. This certainly seems to be the case with Andrews. After catching 34 passes for 552 yards and three touchdowns as a rookie, he caught 64 passes for 852 yards and ten touchdowns in his sophomore year. Want to hear some more interesting stats?
Andrews' 64 passes were more than Zach Ertz in his second season in 2014. His 13.3 yards per catch was larger than Travis Kelce's second season in 2014. His ten receiving touchdowns doubled George Kittle's amount in his second season in 2018; topping all tight ends in 2019.
Mark Andrews was Lamar Jackson's favorite target in 2019 by a significant margin. His 852 receiving yards topped all receivers on the Ravens and only rookie wide receiver Marquise "Hollywood" Brown had more than 500 yards (584). Andrews was a redzone monster, as seven out of his ten touchdowns came within 20 yards of the endzone, according to Pro Football Reference.
Fantasy performance in 2019
Despite Andrews' average draft position (ADP) falling outside of the top 15 tight ends in PPR leagues according to fantasypros.com, he finished in the top five fantasy points earned in all scoring formats among tight ends in 2019. Andrews was particularly valuable in standard scoring leagues (STD). His higher yards per catch made him the second most valuable scoring tight end, with only Kelce scoring more points than him.
To say that Andrews' fantasy owners were pleasantly surprised with his performance would be an understatement, as they got fantastic value from him relative to his low ADP.
Key fantasy factors for 2020
No more Hayden Hurst
The Ravens had a three-headed monster at tight end last year with Andrews, Nick Boyle, and Hayden Hurst. All three saw substantial playing time in 2019 and according to Pro Football Reference, Nick Boyle led the group in playing time, starting 69.59% of the offensive snaps. Andrews and Hurst both played in the exact same amount of snaps, totaling 41.36%.
Snap count doesn't tell the whole story, however, as the Ravens tend to use a lot of two tight end sets. Despite seeing less playing time than Boyle, Andrews led the three tight ends in total targets. Andrews was targeted 98 times. Boyle came in a distant second with only 43 targets, and Hurst finished with 37 targets.
With Hurst now on the Atlanta Falcons, it would make sense that Hurst's 37 targets will be split up among the other receivers on the team. Expect Andrews to be featured in more single tight end sets now that Hurst is gone, which should mean more targets for him in 2020.
This is good news for potential Mark Andrews fantasy owners. Out of the top five fantasy tight ends in 2019, Andrews' 98 targets ranked below the other four, per eDraft. If Andrews sees a large fraction of Hurst's 37 targets in 2020, it will make him an even greater fantasy weapon this season.
(I should note, Boyle may also be positively affected by Hurst's departure. However, I'm skeptical that Boyle will see enough increase in targets to make him a viable fantasy target in 2020.)
Jackson's development as a passer
The Ravens relied heavily on the run game in 2019, and that should more or less continue in 2020. However, Jackson must keep opposing defenses honest as a passer.
Head coach John Harbaugh agrees that Jackson will have to beat teams over the top in order to keep the offense unpredictably effective.
In a conference call with season ticket holders, Harbaugh said:
"Those corners are going to be one-on-one and those safeties are going to be one-on-one against receivers, especially on some downfield throws. We have to make them pay for that. We absolutely have to make them pay"

per Sports Illustrated's Todd Karpovich.
Of course, in order for Jackson to beat opposing defenses over the top, he has to become a more willing deep ball passer. Out of his 401 passing attempts in 2019, he only attempted 60 passes that travelled 20 yards or more in the air. This was middle of the road for starting quarterbacks, per playerprofiler.com.
Assuming Jackson becomes a more willing downfield passer, Andrews should benefit greatly as a viable deep ball receiver. This should only make him more valuable as a fantasy target in 2020.
The development of young wide receivers
Mark Andrews' 2020 fantasy performance will be affected by the development of second year receivers Brown and Miles Boykin, as well as rookie receivers Devin Duvernay and James Proche.
Brown showed the makings of a true number one receiver as a rookie. He led all wide receivers in receiving yards despite being hindered by a screw in his foot.
Boykin was inconsistent as a receiver. On one hand, he made some impressive catches in tight coverage on occasion. On the other, he also had his fair share of frustrating drops. If Brown can take the next step as a dynamic receiver, and if Boykin can develop more consistent hands, this should make them more reliable targets for Lamar Jackson.
Duvernay should contribute immediately as a slot receiver. His speed should keep opposing secondaries honest, which could open up opportunities in the short and intermediate zones for Andrews. As a late round pick, Proche may struggle to see the field early in his career, as he does not possess the pure speed of Brown or Duvernay. He has the reliable hands that may make him a trusted target for Jackson sooner rather than later.
So what does this mean for Andrews? One one hand, if these young receivers do progress, it would mean that they would earn more targets. The more targets the wide receivers get, the less to go around for Andrews. On the other hand, if the wide receivers become more of a threat, it should open up more one-on-one opportunities for Andrews. It could also open up more holes in the defense, allowing Andrews to operate with less resistance.
Both factors should be considered if you want to draft Andrews to your fantasy team in 2020.
Final evaluation and fantasy predictions
Evaluation
Mark Andrews should see a small increase in targets in 2020, which should mean more than 98 receptions. It's also safe to say that his yards per catch will increase as Jackson and the Ravens offense emphasize the deep ball more this season.
However, fantasy owners should be wary when jumping to grab Andrews over some of the other top tight ends, especially Kittle and Kelce, as the Ravens offense should still be a run-heavy offense in 2020. Therefore, despite a target increase, it's unlikely that he will see as many targets as more pass-heavy offenses.
Predictions
Mark Andrews is undoubtedly a top TE1 option for any fantasy owner in 2020, and may be the first tight end drafted in some fantasy leagues. Below are my fantasy rankings for STD, PPR, and half PPR scoring leagues:
STD: TE3-ADP 31;
PPR: TE4-ADP 38;
Half: TE3-ADP 34
As much as I value Andrews as a fantasy option, my opinion is drafting him any earlier than the fifth round could be a reach. Despite a bigger target share, the evolution of the Ravens offense is unclear and looks to be focused on the run. You can find other tight ends in more pass heavy offenses that will give you similar production in later rounds.
That being said, if you must have Andrews at all costs and he is your TE1, you'll have to grab him early in the third round in any league formats.
For more Time Skew content, be sure to check out our Youtube! Also follow us on Twitter, and listen to the Time Skew podcast on Apple Podcasts!