A deep dive into the Raiders' tight end position
The Raiders tight end position has been one of the strongest positions on their depth chart for a few years. After Jared Cook left the team during free agency in 2019, questions were asked about the quality at the position for the 2019 season.
However, a breakout season from Darren Waller and an underrated rookie campaign by Foster Moreau, which was disappointingly cut short by injury, meant the Raiders had one of the strongest tight end rosters in the league. Will they improve this season, and why is it so important for the Raiders to have high quality at the tight end position?
Current roster
The Raiders 2020 tight end depth chart won't look too different from the 2019 outfit of Waller, Moreau, and Carrier. Gruden has been extremely effective at utilising the talents of each of his tight ends. Darren Waller and Foster Moreau are predominantly the pass-catching tight ends, with Derek Carrier being used mainly in the blocking game but adding some understated versatility with his athleticism. The additions of Jason Witten and Nick O'Leary in the 2020 offseason adds some depth and experience to a solid roster.
Guaranteed roster spots
Darren Waller
Darren Waller was a contender for comeback player of the year and it's clear why. In 16 games, Waller went for 1145 yards on 90 catches and contributed three touchdowns along the way. This was a clear breakout year for the 27-year-old tight end, who finished with five games of over 100 receiving yards.
Waller has the athleticism to get open and win against most defensive backs, and his massive game versus the Packers where he went for 126 yards and two TD's is a prime example of this (see below). If he keeps up the productivity of his breakout year, the Raiders' deep threat ability will be a massive strength of the team.
The Raiders got in early and signed him to a four-year $29 million extension that keeps him in the Silver and Black until the end of the 2023 season. If his career trajectory continues on this path, this could be a bargain of a deal, with top tight end George Kittle reportedly asking for $13 million a year.
Waller has the key skill set in place, but this season he has a chance to go on and get better as his supporting cast improves. Last season, he was the clear number one receiver for the team and Carr's obvious first read. To bolster the skill positions, the Raiders went on the offensive in the 2020 draft, taking Alabama wide out Henry Ruggs III in the first round, along with South Carolina wide receiver Bryan Edwards in the third round.
These two additions significantly improve the Raiders wide receiver core and will help to take the pressure off Waller. He will likely see a decrease in targets, but don't be surprised if he improves on his 2019 season regardless. With the pressure of being a number one receiver gone, he should go on to better his touchdown ratio along with yards gained per catch.
Foster Moreau
Foster Moreau is going to be a big asset for the Raiders team going into the 2020 season. After his rookie season was cut short with a bad knee injury, the LSU product will be looking to build on his 2019 campaign.
In 11 games, Moreau had 21 receptions and 174 yards. This doesn't seem like a great amount, but his productivity in the end zone is really where he flourishes. He has incredible short to medium route running ability and was able to produce five touchdowns on the season. This equates to 23.8% of his catches as touchdowns, a remarkable number.
Moreau will be just 23 years old in the 2020 season, which is extremely young for a tight end to produce as well as he did last year. The average age an NFL tight end plays the best football of his career is between 25 and 27, with significant drop offs before and after this age. Based on this metric, there are at least two more seasons before Foster Moreau is even at his peak. Moreau is a big-time player and provides a genuine threat in the red zone, with some more experience could be an extremely dangerous offensive weapon in the league.
Almost guaranteed a roster spot
Jason Witten
Witten has been one of the best tight ends in the league since being drafted back in 2006. Over the last five years (excluding his retired season in the ESPN booth) he has declined with age and, adding to the chart below, he received a 59.4 grade from PFF for his 2019 season. He is still a solid option to have in the red zone, but it's not hard to imagine that Gruden signed him for his experience and mentoring value.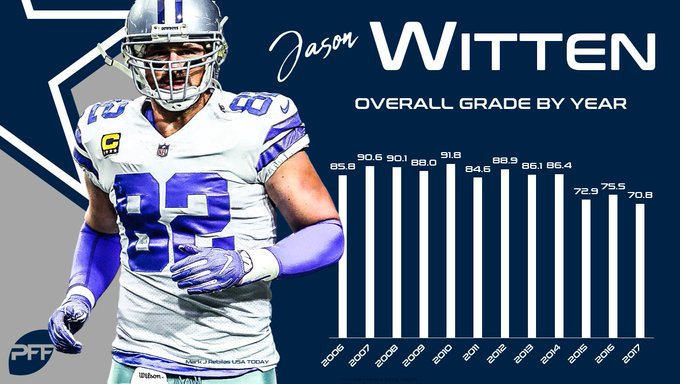 It is difficult to see how Witten would be cut, especially with the $4.75 million fully guaranteed at signing. However, it will be interesting to see if the Raiders go with three or four tight ends. If it's the latter, he is the most likely out of himself, Carrier and O'Leary to make the team.
Witten himself said that he wants to continue his career after retirement as a coach. This could be one of the main reasons he was picked up to play for the Raiders. With the wealth of knowledge and experience he has from 14 seasons in the league already, he should prove to be a valuable asset to the improvement of this tight end group.
Fighting for a roster spot
Derek Carrier
Derek Carrier plays a big role in the split back system, along with fullback Alec Ingold, and helped Josh Jacobs in his stellar rookie season. Starting out in the league as an undrafted WR going to the Raiders, he transformed to a tight end and has been around the league on various rosters. Despite not starting in the league as a TE, Carrier has become a tremendous blocking player and this is his main value to the Raiders.
He also offers sneaky athleticism and has some great route running ability, as shown in the video below. Unfortunately, it will be difficult for him to make the roster in 2020 with the signing of Witten. He'll have to beat out newcomer Nick O'Leary to a fourth tight end roster spot, but with O'Leary's injury, he may find himself in with a better shot.
The main thing that he has in his favour is that he is a huge special teams player for the Raiders. Carrier played 80% of the Raiders special teams snaps last season, giving him an increased value.
Nick O'Leary
Nick O'Leary has had an up and down career since being drafted by the Bills in 2015. Used mainly as a piece in the blocking game, the 6'3″ tight end had a decent 2019 season. In fact he was rated as PFF's highest-graded blocking tight end. Despite this, it's hard to see O'Leary making the team in 2020. He suffered an injury working out on his own and was put on the reserve/NFI list.
Summary
The Raiders' tight end position has a dynamic mix of route runners, athleticism, and blocking ability. It's not hard to imagine that the relatively inexperienced group will get better with the veteran Witten to help.
Gruden runs a west coast offence that relies on predominantly short passes and power running. The tight end group is so important in both of these situations. During the running game, they help to create holes blocking for the running back. In the passing game they can block, but also have the ability to release and give Derek Carr a big body to aim for.
Keep an eye out for this elite tight end group in 2020. They will be key to the Raiders having a successful season.
For more Time Skew & NFL Draft content, be sure to check out our Youtube! Also follow us on Twitter, and listen to the Time Skew podcast on Apple Podcasts!
Read more: