Ravens vs. Steelers preview: three key factors to victory
It's that time of the year, Ravens fans!
To read my Week Seven review article, click here.
On Sunday, the Baltimore Ravens and Pittsburgh Steelers will match up for the first time this season, renewing what has become arguably the best rivalry not just in the NFL, but perhaps in all of professional sports.
Since the Ravens' franchise inception in 1996, the Steelers hold a slight head-to-head advantage 28-24. But since 1999, each team has 23 wins apiece. Sunday's game will break that tie.
This year's iteration of the rivalry has everything football fans want in a great game: elite defenses, offenses with star power that can put points on the board, and top-notch coaching, just to name a few things.
Speaking of great coaching, Sunday's game will set a record for the first time two head coaches have met in 25 games. John Harbaugh and Steelers coach Mike Tomlin are considered two of the best in their profession and are both Super Bowl-winning coaches.
The Steelers come into the contest as the NFL's lone remaining undefeated team at 6-0. The Ravens, at 5-1, can effectively take back control of the AFC North with a win on Sunday.
So who will win? For the Ravens, here are the three key factors that will decide the matchup on Sunday:
Ravens must keep forcing turnovers
The Ravens are plus-six in turnover differential this season. Only the Tennessee Titans and Kansas City Chiefs have a better ratio. The defense has forced at least one turnover in every game this season. This extends a streak totaling 19 straight games, which is the longest current streak in the NFL.
As good as Ben Roethlisberger has been so far this season coming back from elbow surgery that cost him most of 2019, he has been susceptible to turning the ball over. Last week, he threw three interceptions against an opportunistic Titans defense. He also hasn't been that effective at throwing the deep ball but has been great at making quick decisions off of RPO's and allowing the quick receivers to pick up huge chunks of yards after the catch.
The Ravens defense has to give their offense more chances to score by creating timely turnovers. Luckily, they have been the best in the league at forcing fumbles (13) and recovering them (eight).
Win the line of scrimmage on offense
This might be the biggest key factor that may determine whether or not the Ravens win on Sunday. The Steelers come in boasting arguably the strongest defensive front seven in the NFL. Meanwhile, the Ravens offensive line has struggled to find consistency this season.
Defensive threat
The Steelers front three is lead by three-time Pro Bowler Cameron Heyward. He along with veterans Stephon Tuitt and Tyson Alualu stuffed opposing run games and provided a formidable pass rush up the middle.
Outside linebackers T.J. Watt and Bud Dupree have combined to give the Steelers the best pass-rushing defense in the NFL. They lead the league in both pressure rate and sack rate on opposing quarterbacks.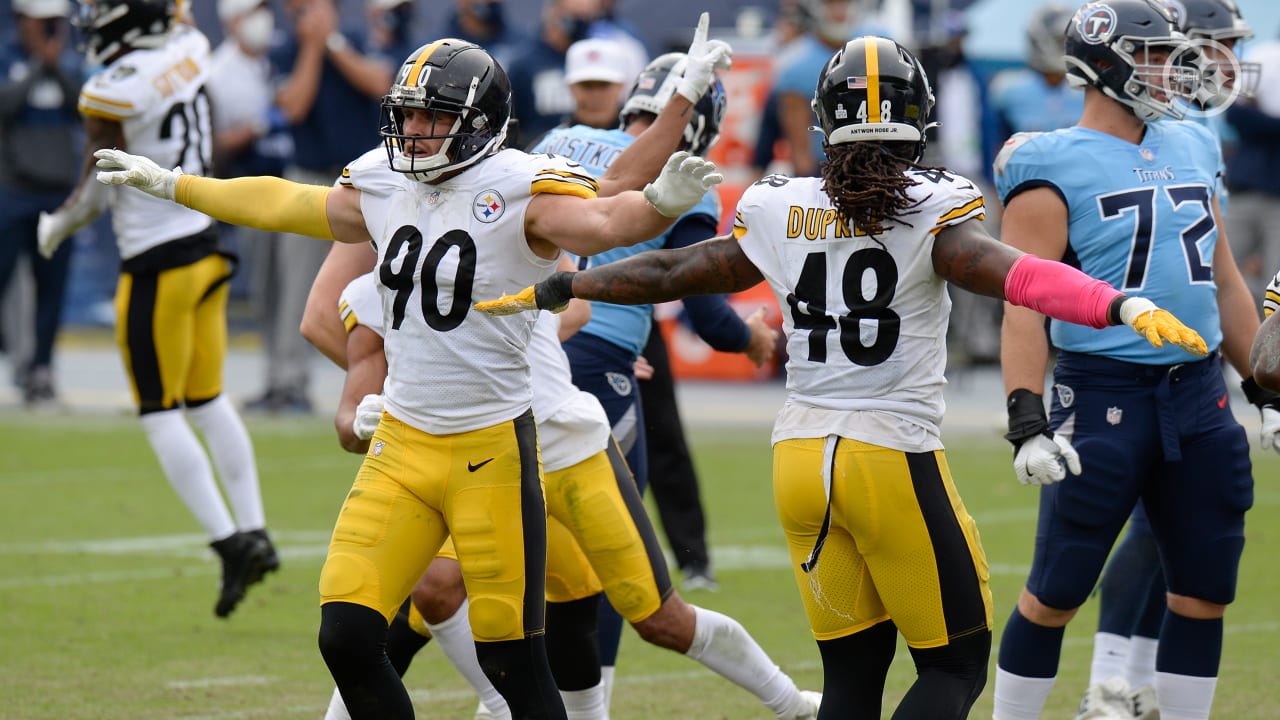 For the Ravens, they haven't been able to consistently be on the same page. Last week, the offensive line committed nine penalties, many of them on pre-snap infractions.
Mistake free football
Center Matt Skura said on Friday that they have put particular focus on cleaning up the silly penalties. They had referees at practice watching for misalignments and other penalties.
The Ravens offensive line has struggled perhaps more than expected trying to replace Marshal Yanda this season. They have also dealt with nagging injuries and having to shift around the starting offensive line at times, which may have had an effect on their performance.
If the offensive line can keep Lamar Jackson upright and open holes in the running game, they can neutralize the Steelers' defense and keep the Steelers offense on the sideline.
Have a third receiver emerge in the passing game
Right now, opposing defensive coordinators are game planning to stop the Raven's top two receivers, Marquise Brown and Mark Andrews. Brown has made some big plays so far this season and is clearly their most explosive receiver. Andrews has been a touchdown machine already this season, with five touchdown receptions in just six games.
After that, the receiving corps has been nonexistent. Miles Boykin and Willie Snead, the next two wide receivers on the depth chart, have combined for just 22 receptions and 271 yards. That's less than four receptions and 45 yards per game combined. A lack of a consistent third weapon has contributed to Jackson's poor passing numbers so far in 2020.
Room for a rookie?
If it's not Boykin or Snead who will step up, the answer might be rookie Devin Duvernay. Although Duvernay only has 10 receptions for 90 yards and has yet to record an offensive touchdown, he has only been targeted 12 times, meaning that he is maximizing his opportunities that come his way.
Duvernay has also shown to be explosive with the ball in his hands. He already has a kick return for a touchdown in Week three versus the Chiefs and has one rushing attempt that went for 45 yards. His involvement in the offense has also seemed to increase over the last two weeks.
Duvernay looks like a guy that can be a real threat on the field, which would open up more space for Brown and Andrews to work. If he or someone else can step up for Jackson on Sunday, it could give the offense just enough to give the Steelers defense fits.
Prediction
As with almost any Ravens-Steelers matchup, this game looks to be a one-score classic, but the Ravens have more on the line on Sunday, and therefore more urgency to win.
Newly-acquired pass-rusher Yannick Ngakoue will make his presence felt against Big Ben, leading a Ravens defensive effort that will result in at least four sacks and constant pressure on the Steelers quarterback.
The Ravens defense will continue their consecutive streak of forcing at least one turnover, intercepting one pass, and forcing a fumble recovery that will result in points for the Ravens offense.
The offense will do just enough to put more points on the board. Expect Jackson to be more of a threat in the running game, capitalizing on the Steelers' aggressiveness rushing the passer, especially with no Devin Bush in the middle of the defense to spy on Jackson.
Final Score: Ravens 24, Steelers 20
For more Time Skew content, be sure to check out our Youtube! Also follow us on Twitter, and listen to the Time Skew podcast on Apple Podcasts!