Week 12 waiver wire top adds at WR & RB
Waiver wire pickups this late in the fantasy football season are about picking up wins right now. Not stashing for the future. If you are scrambling to the waiver wire for week 12 we have you covered.
Here are two players fantasy football owners must add to their fantasy football team to pick up wins this week and beyond.
Top wide receiver pick up – Michael Pittman Jr.
This rookie wide receiver is a must add to any fantasy team from the waiver wire. Whether you need him to play or you are playing keep away from an opponent, Pittman Jr. is a great selection. He has become someone who is heavily involved in the Colts offense and earned the trust of his veteran QB.
He has grabbed 7, 8, and 3 targets in his last three games and securing 56, 101, and 66 yards respectively. To put it simply, Michael Pittman Jr. has become Rivers number one target over the last few weeks and gives the team the best opportunity to win.
Looking ahead, the rookie plays the Titans, Texans, and Raiders over the coming weeks. All of these are plus matchups for receivers. The Titans are allowing 25.3 fantasy points per game to wide receivers. Meanwhile, the Texans are allowing 25.8 fantasy points per game and the Raiders are allowing 24.4 fantasy points per game to pass catchers.
This means there are tons of opportunities to score fantasy points for Pittman Jr. We recommend spending 30% of your remaining fantasy budget on him.
If you desperately need a wide receiver to play spend more and go get him. If your opponent needs a wide receiver, play it smart and grab the ascendant rookie now to keep him away from opposing line ups.
Top running back pick up – Gus Edwards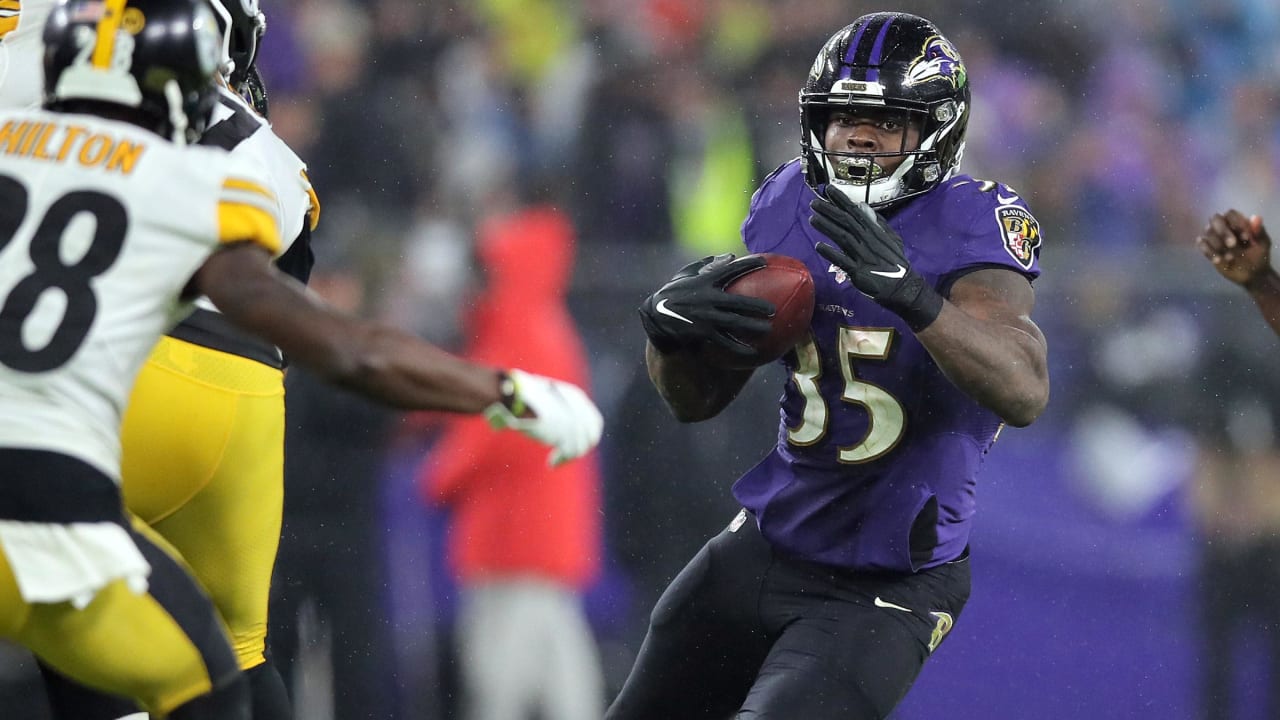 This is a player you absolutely must add to your fantasy football team regardless of need. With the opportunity he has in offer, it's likely Gus Edwards will help you win your fantasy football matchups for the next couple of weeks. Mark Ingram & J.K. Dobbins have both been placed on the COVID-19 reserve list and both running backs have been confirmed to have COVID-19. This means both players will miss this Thursday's game against the Steelers and potentially miss the next couple of matchups.
Gus Edwards has been a decent play the last few weeks but now he has been elevated to a weekly winner. He had a disappointing three attempts for six yards last week but only a few weeks ago he had 16 rushing attempts for 87 yards and a touchdown against the Steelers. With Gus being the main running back through necessity, he should receive a ton of work Thursday night.
If you have been dealing with injuries or inconsistent play at the running back position then Gus will be your man in week 12. Lamar Jackson has been very disappointing this season in the passing game and will not be able to beat the Steelers through the air. The Ravens will have to rely on their ground game and attempt to test the Steelers stout run defense.
Looking ahead, Edwards plays the Cowboys and the Browns in the following two weeks. The Browns have been around against the run, but it's not a bad series of match ups. We recommend spending 25% of your remaining FAAB budget to acquire Gus.
For more Time Skew content, be sure to check out our Youtube! Also, follow us on Twitter, and listen to the Time Skew podcast on Apple Podcasts!
Host/founder of the Time Skew podcast. I am dedicated to helping you get better at fantasy football and dominate your league!