Three WR trade targets for this offseason
5 min read
Dynasty trade targets are flooding the Twitter sphere and as we creep toward the NFL Draft, the market opens up. What WR's are potential targets for your team?
The fantasy football offseason consists mostly of dead time. However, while the playoffs are heating up so are the fantasy hot stoves. So here to help you are some WR trade targets and suggestions on who to give up.
Courtland Sutton
The Denver Broncos went WR heavy in last year's draft, grabbing wideouts with their first and second-round selections. That being said, after Courtland Sutton went down in the first game of the season it was expected either of them or possibly Daesean Hamilton, their fourth-round pick from 2018, would step up to the lead receiver role. Instead, the highest finish for a Broncos WR came from Tim Patrick, an undrafted player who had played sparingly his past two years with Denver. Even so, Patrick only finished 41st in half-PPR leagues. On the season there were 25 different teams that had receivers finish above Patrick. This shows just how badly Denver needs Sutton back.
Sutton finished 2019 as the 19th best WR so despite playing less than half a game this year he will still be held in high regard for his possibility. However, coming off an injury always will bring a player's value down. Also, his value should also be down considering Drew Lock looks to be the Broncos' QB going into 2021. The Sutton owner of your league should be feeling his value slip. So he may be willing to take less than he should for him.
WR trade Suggestion: 2021 late 1st round pick or early 2nd round pick and a low-end starting RB (e.g. James Conner)
Laviska Shenault Jr.
Laviska Shenault was one of the lesser talked about rookie wideouts from the past draft, but could very well have the best year two improvement. He finished as the 47th WR in half-PPR leagues, which is not desirable, but understandable for a team that was bottom five in total offense and obviously "earned" the top pick in the upcoming draft.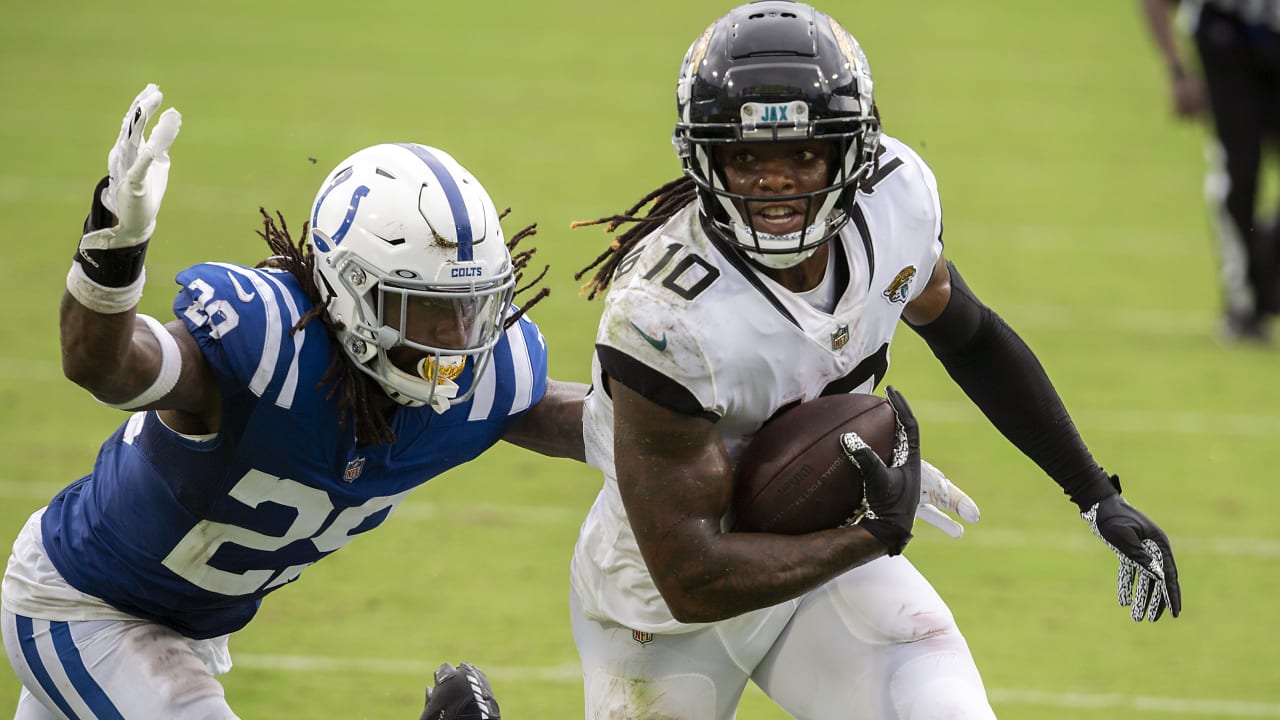 Speaking of the top pick, that pick will most likely benefit Shenault. Trevor Lawrence is the presumed top prospect and probably already has his name on a Jaguars uniform. No pick is ever certain to pan out, however, he is almost certainly a better option than Mike Glennon. Of course, this also benefits DJ Chark, but the reason you should go after Laviska instead is why he should be used more by the Jaguars next year.
His versatility. Not only did he lead the Jaguars in receptions last season, but Shenault also was fourth in rushing attempts among all wide receivers. So with a bump in usage that we usually see from early-round wide receivers along with decreased reliance on James Robinson by the Jaguars. We could see Laviska Shenault develop into a receiver of Robert Woods' ilk.
WR trade Suggestion: Supplementary WR (e.g. Darius Slayton or Christian Kirk) and a Receiving RB (e.g. Jamaal Williams or James White) OR a Receiving RB and a 2021 2nd round draft pick
Diontae Johnson
Diontae Johnson led the NFL in drops this past season. Drops are quantified as balls deemed catchable by whoever is counting the stats. Much like an error in baseball, which leads to some confusion as to what can be considered a drop. Depending where you look he could have had 13 or he could have had 10. However, there was no question that he had the most.
This is good because this along with a slow start to his season and unease about the offensive capabilities makes Johnson a prime target for some managers to get rid of. Looking deeper into him though you can see he drastically improved his second season. This is because he got more targets and had a better QB throwing to him. Johnson looks to be the Steelers' top target again going into next season. JuJu Smith-Schuester was his biggest competition this year, but he looks set to hit free agency. Chase Claypool could also contend, but due to how inconsistent his rookie year was it is difficult to believe he could usurp Johnson on the depth chart.
Read more about the Steelers offseason predicament here.
There also remains a possibility that the Steelers could look for a new QB for 2021. Despite Pittsburgh's offense looking better this year than the previous, there was still more to be desired. Even if not a new QB, without Randy Fichtner returning, the Steelers could go throw an entire philosophical change for the better. It's all just a thought, but either could benefit Johnson's value and so it'd be best to trade for him before it becomes a reality and his value increases.
WR trade Suggestion: a low-end RB2 (e.g. Raheem Mostert) and young WR that hasn't impressed so far (e.g. Marquise Brown) and a 2nd round pick
Wrap-up and side note
That is it for these wide receivers. All three WRs are set up to be better next season. So it is best to get them now before others get on the scent.
As a note, understand that the trade suggestions are baselines and one individual's value will perpetuate their trade value. If a Broncos fan owns Courtland Sutton in your league, he may not give up Sutton or will ask for more. So along with these suggestions, it will be important to keep in mind who you're trading with. With that being said, good luck and happy offseason.
Read More: